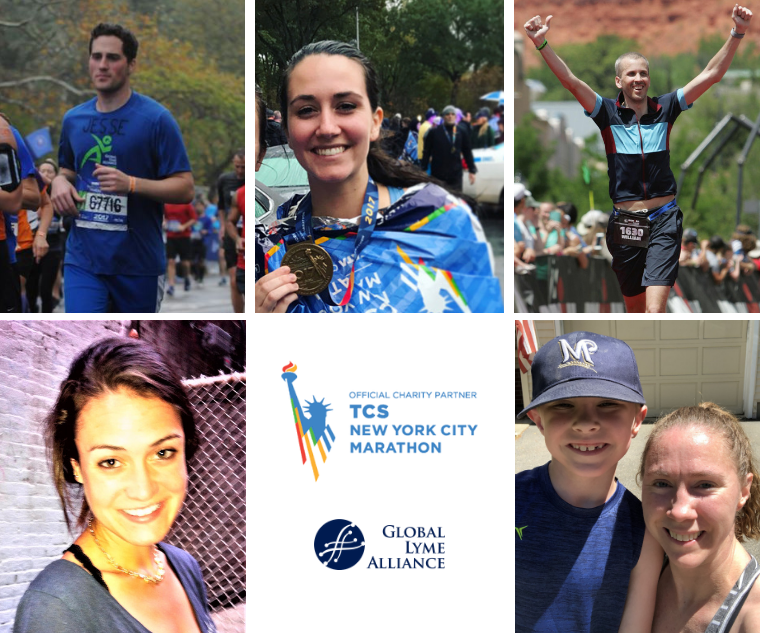 Meet the Team GLA runners for the 2019 TCS New York City Marathon. All 5 have personal reasons for taking on the 26.2 mile run through the streets of New York City.
If you ask Taryn Tomczyk, from Scranton, Pennsylvania, but now living in New York City, who's the strongest person she knows, she'll tell you without missing a beat that it's her mom, Sue, a chronic Lyme disease sufferer.
Sue was officially diagnosed with Lyme about nine years ago, but she was feeling ill for years before that. Unfortunately, as is too often the case, Sue's doctors never thought to test her for Lyme until it was too late. She has since tried numerous treatments and dietary plans to get the disease under control, but nothing has been effective. She struggles with Lyme on a daily basis—some days she's so fatigued she can't get out of bed, on others she has trouble walking due to excruciatingly painful joints.
In support of her mother and others affected by Lyme disease, on Sunday, November 3 Taryn will join 50,000 individuals from across the globe who will gather on Staten Island to run the 2019 TCS New York City Marathon. Taryn will run as a member of Global Lyme Alliance's (GLA) official charity partner team.
"I want to be able to help raise awareness as well as donate to Lyme research efforts, so that fewer people will suffer and those that do will be treated sooner," Taryn said. "It means the world to my family and me to contribute to a cause that hits very close to home."
Joining Taryn as members of Team GLA will be Erin Conant, of Milford, Massachusetts; William Egan, raised in Maryland, but now living in New York City; Mia Sapienza, of New York, and Philadelphia-born Jesse Ruben, who will serve as Team GLA's captain for the second year in a row. Although each has a different personal reason for running the grueling 26,2 mile course, all want to help raise funds for GLA and make a difference in the fight against Lyme disease.
Erin Conant, a mother of a seven-year-old, says she is "honored" to run in the Marathon for "a cause that's meaningful and valuable to myself and my family, that is, raising funds to support ongoing Lyme research." Four years ago she learned first hand how difficult it is to get an accurate Lyme disease diagnosis. She became quite ill with pneumonia and landed in the ER. Yet after a course of antibiotics and steroids and a month of rest she still hadn't returned to normal. She went back to her doctor for a battery of tests and learned she had been suffering from previously undetected and untreated Lyme. She still experiences varied levels of fatigue and fevers almost daily, but that isn't stopping her from running despite her personal struggles.
"Running the New York City Marathon is certainly a bucket list item," she said. "But mostly I want to run to support the development of effective treatments, prevention education and ultimately a cure. It holds a special place in my heart."
After college in Utah, William Egan moved to New York and is now looking forward to tackling his first New York City Marathon. His main goal on race day, he says, is to show others that it's possible to overcome life's obstacles. His Lyme journey began a year ago when he took his daughter on a father-daughter campout in New Jersey. At the end of each day, he checked them both carefully for ticks. Yet less than three weeks later, while vacationing in Florida with his family and in-laws, he started to feel symptoms that he initially dismissed as sun poisoning from being onboard a boat all day. Almost overnight, he started to feel extremely fatigued, and suffered from migraines, light sensitivity, intense night sweats and brain fog. He then spotted a large "softball sized" ring on his upper inner thigh, a tell-tale sign of Lyme disease. He had missed a tick from the campout.
Egan, who works for the investment banking firm Morgan Stanley, returned to New York, saw his general practitioner, and began medication to treat Lyme disease. Three weeks later, he learned he had also been infected with the co-infection babesiosis. In the next few months, his symptoms continued unabated. "I had completed a Half Iron Man a month before the campout with my daughter, and now I couldn't even bike 20 blocks to my office," he said. "I went to bed around eight o'clock every night and still woke up exhausted. I had migraines that shut me off from my family and work because I couldn't even keep my eyes open."
Grateful that he is feeling better today, Egan is determined to raise awareness about Lyme prevention—and one way is by being on Team GLA. He and his three children are excited about his running in the marathon. "My seven-year-old is also very excited about a series of bake sales/lemonade stands for my marathon fundraising and to remind New Yorkers to check for ticks during their adventures."
This will be New Yorker Mia Sapienza's second marathon—her first was in 2017 and she hopes to finish strong. Her friendship with Team Captain Jesse Ruben and his wife, Jen, inspired her to run and fundraise for Team GLA. "Their love, Jesse's strength in recovery, and Jen's support have been inspirational to observe," says Mia, a Human Relations executive.
Another reason, she says, is that her mom was recovering from Lyme when she was a baby. "My parents were nervous during my mother's entire pregnancy," said Mia, "and I grew up hearing about my mom recovering from Lyme with a newborn."
These reasons have motivated Mia to run for GLA. "I believe in the cause and have witnessed recovery," she said. "I know how many people suffer still, all over the world."
Philadelphia-born singer-songwriter Jesse Ruben, now living in Brooklyn, has run the New York City Marathon five times, three times for GLA. For the second year in a row he will run as GLA's Team Captain.
When he performs at concerts, Jesse makes it his mission to raise Lyme disease awareness. He says no matter where he goes, there is always someone who has Lyme—audience members at concerts, Uber drivers, people waiting in line behind him at the bank. "There is still a long way to go. So I'm going do everything I can to help Lyme patients."
He says he is proud to run the marathon again. "As Captain of the GLA marathon team," he says, "I feel honored to be representing this community and running for all of those people who are suffering and who can't run themselves."
We hope you will cheer on this year's Team GLA runners and support their herculean efforts