by Jennifer Crystal
For years during my convalescence, I had a recurring dream. It took place at summer camp where my favorite activity was water-skiing. In real life, I'd spent many summers learning to get up on two skis, then to drop a ski, then to get up on one ski. As a counselor I taught campers what I'd learned, eventually becoming a boat driver and the director of the activity. In the recurring dream, I would suddenly realize it was the end of the summer, all of the boats had been put away, and I'd missed my chance to water-ski that season.
"It's weird that I'm dreaming about actually water-skiing," I told my therapist when I relayed the dream to her. "I only drove the boat during my last few summers at camp, and taught other people to ski—I haven't skied myself in years. So it's weird that I'm not dreaming about driving the boat. Because that's the part I really miss."
I missed so much of my former summer life, and especially longed to feel the wind in my hair, the sun on my face, and the throttle in my hand as I pulled campers up on skis. Being stuck in bed with a PICC line that couldn't get wet was a brutal reality compared to the idyllic summers I'd once enjoyed.
"Maybe you miss something else, too," my therapist suggested.
"Like being active?"
"Yes, but maybe it's also more metaphorical. What could water-skiing symbolize?"
I thought for a few moments. As a writer, I was always looking for symbolism, but I wasn't sure what water-skiing might represent, besides physical activity. "Fun?" I finally suggested.
My therapist nodded. "Your life has not been fun for a while. You haven't been able to kick back or enjoy the activities that you love." She let me digest this for a few minutes, then asked, "How old are you now?"
I had just turned 27. I'd been undergoing treatment to fight tick-borne illnesses for over two years, and had wrestled symptoms for many more years before I got an accurate diagnosis. My late-twenties life revolved around medications, naps, and trips to the pharmacy, while my friends were getting married, buying houses, and celebrating promotions. I'd spent most of my birthday feeling anxious and depressed, wondering when I'd get back on track, if I'd get back to the life I'd put on hold when I got sick. I was focused on that word "back," hoping mine would be a restitution narrative, in which the patient returns to life in the pre-illness state. When I blew out the candles that year, I wished for recovery.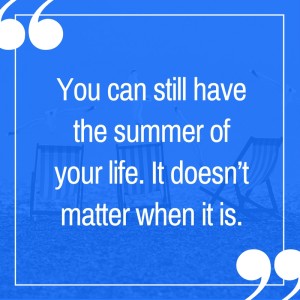 "This is supposed to be the summer of your life," my therapist said when I told her my age. "You are supposed to be in your prime. I bet, subconsciously, that you're worried you'll miss it entirely, just like you missed out on water-skiing in your dream."
"Not even in my subconscious," I muttered bitterly. "I am missing it."
"You're missing parts of it now, yes, because you're very sick. But as you continue to get better, you can still have the summer of your life. It doesn't matter when it is." I see now that my therapist chose her words carefully; she never said "get back." She was focused on forward movement I couldn't yet appreciate.
At the time, I didn't believe her. I really thought I'd missed the boat, so to speak. But now that I am in remission, leading a full and happy life in my late thirties, I see that my therapist was right. I'm not back on track. The friends who were getting married and getting mortgages now have children and bigger houses, whereas I haven't even met my husband yet. Some days, that freaks me out. But then I remember my therapist's wisdom, and realize that my track is simply different. It had a significant detour, but it is moving forward again. Mine is not a restitution narrative; it is a quest narrative, in which the patient moves forward in spite of illness.
I can't get my twenties back. As I mentioned in last week's post, I still can't water-ski. But I can get out on the water. I can swim, paddleboard, canoe, and kayak. I can ride in a boat, feel the wind in my hair and the sun on my face. I finished graduate school and published my first book. I teach creative writing classes, hang out with friends, and go out on dates. I'm not saying this to brag. I'm saying that despite my bleak outlook, I did still get to have the summer of my life—and I'm not just enjoying it; I'm relishing it.
Those of you suffering the winter of Lyme will get your summers, too. It will probably take longer than you'd like. It will probably be later in life than you'd like. But it will happen, and I promise you: it's the stuff that dreams are made of.
Jennifer Crystal is a writer and educator in Boston. She is working on a memoir about her journey with chronic tick-borne illness.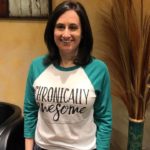 Writer
Opinions expressed by contributors are their own. Jennifer Crystal is a writer and educator in Boston. Her work has appeared in local and national publications including Harvard Health Publishing and The Boston Globe. As a GLA columnist for over six years, her work on GLA.org has received mention in publications such as The New Yorker, weatherchannel.com, CQ Researcher, and ProHealth.com. Jennifer is a patient advocate who has dealt with chronic illness, including Lyme and other tick-borne infections. Her memoir about her medical journey is forthcoming. Contact her via email below.