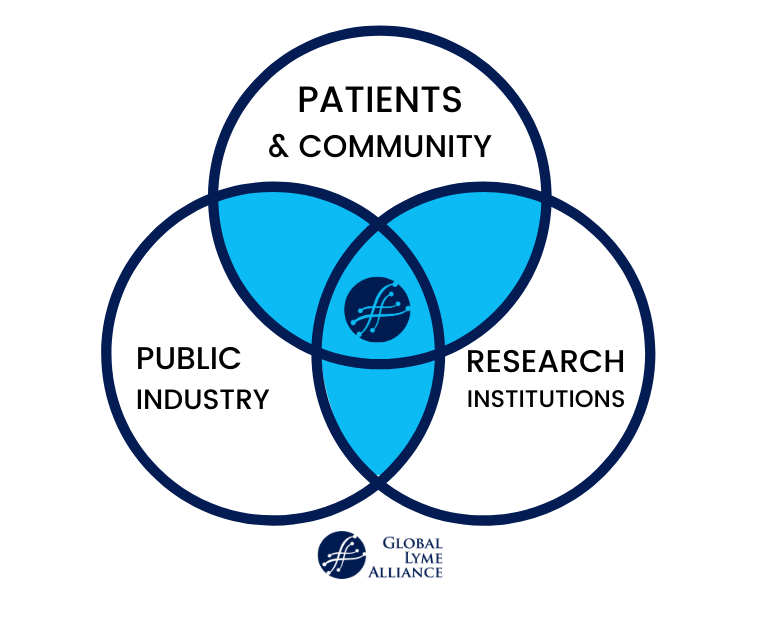 GLA's CEO Scott Santarella shares his insight on how scientific advancements that benefit patients can be accelerated through public-private partnerships, as he witnessed during his previous work in cancer research, and see now with both COVID-19 and Lyme disease.
by Scott Santarella, CEO, Global Lyme Alliance
As the scientific community focuses on unlocking the mysteries of COVID-19, Global Lyme Alliance (GLA) continues to vigilantly pursue its mission to conquer Lyme and other tick-borne diseases. While we know this will not happen overnight, the coronavirus pandemic is reinforcing GLA's long-held belief that working through public-private partnerships (PPPs) is essential if we are to accelerate improvements in Lyme diagnostics and treatments.
With COVID-19, we've seen a global research collaboration unlike any in history. Biopharmaceutical companies are combining their resources and expertise with federal, state, and local governments, industry, academia, and philanthropies. Exceptional science is being done around the world with more than 160 new drug and vaccine candidates already in development. The unprecedented level of collaboration and investment is advancing coronavirus research at a breakneck speed. One could only imagine the impact we could have if we took this approach with all of our most challenging diseases and healthcare needs.
Although the novel coronavirus is now foremost, there is another serious pandemic that has been around for far longer and continues to rage. Some 427,000 people in the U.S. are newly infected with Lyme every year. One tick bite can change an individual's life forever, from causing ongoing physical symptoms to persistent life-altering disorders. Up to 20% of Lyme disease patients fail to recover after standard antibiotic treatment. In some cases, the illness can lead to death. Yet unlike COVID-19, there has been limited industry and government interest in Lyme disease research as compared to other similar infectious and immunocompromised conditions.
To accelerate innovation in improving Lyme diagnostics and standard of care, GLA believes that nonprofits must work collaboratively and in partnership with industry, research universities, R&D centers, as well as all levels of government. Such partnerships allow nonprofits and other public institutions to tap into the scientific expertise and funding resources of their partners to reach goals far more quickly than they could have on their own. One leading biotechnology company—Regeneron Pharmaceuticals, Inc—recently took that step by announcing it would collaborate with New York State's Wadsworth Center Laboratory to advance the development of new prophylactics and treatments for Lyme patients.
GLA has long invested in public-private partnerships as part of its strategy to expedite finding answers and helping patients. We are working in partnership now with several biotechnology companies including Ionica Sciences, which is developing a highly sensitive Lyme diagnostic test and Manus Bio, Inc., which is creating an environmentally-friendly repellent that kills ticks in seconds. Our collective goal is to bridge the gap between research discoveries and their rapid translation into marketable products, which could have a profound impact not just on the lives of Lyme patients, but the collective global community.
We are also working with private partners to increase Lyme and tick-borne disease awareness. Without accurate diagnostics and proven treatment options, the need for tick bite prevention is key. GLA has joined forces with companies such as Ranger Ready Repellents and Ivy Oaks Analytics to promote prevention methods for families, summer campers, and the general public. Working together we have protected hundreds of thousands from tick bites and tick-borne illnesses.
While we are proud and supportive of these forward-thinking efforts, public-private partnerships are often misinterpreted or frowned upon in the nonprofit world—even though there are a multitude of examples that validate how beneficial they can be. Although institutions want the private sector dollars and research assistance, for some, the word "private" connotes private sector control. In the non-profit world, the reluctance stems from the stigma of being thought of as "selling out" or relinquishing ownership and/or the dreaded fear of conflicts of interest.
The truth is, with solid contractual agreements, such partnerships can be set up to make the most of a private sector's resources while preserving the integrity of a non-profit's mission. A shared vision and a strong working relationship are essential in laying the foundation for a mutually beneficial partnership. GLA believes strongly that we must harness the skills, knowledge, and especially the resources of private-sector players, now is the time. We are at a watershed moment in which research data and healthcare technology are converging in ways that can accelerate substantive change. Without private support, many projects that could improve the quality of life for patients will remain ideas vs. impactful change agents.
Although the unprecedented threat of COVID-19 is now foremost, myriad opportunities still exist for changing the paradigm of Lyme disease understanding, treatment, and management. By embracing forward-looking public-private partnerships great progress and advancements can and will be made.