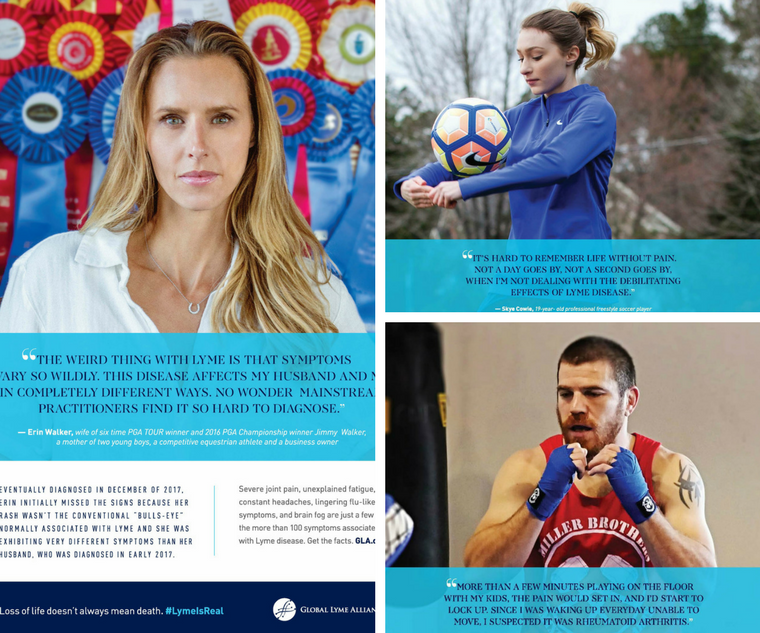 Three noted Lyme warriors are the focus of GLA's new Lyme disease awareness ads
To kick off Lyme Disease Awareness month, GLA released three new Public Service Announcement (PSA) ads in Conde Nast and Meredith Parenting Group magazines. The ads highlight the personal stories of Erin Walker, Jim Miller and Skye Cowie. Starting with the May 2018 issues, the new PSAs will run in subscriber copies of publications like Parents, Golf Digest, GQ, Vanity Fair, The New Yorker, and Glamour, among others, in select major markets across the US, with a circulation of 1.25 million. "Lyme disease is an epidemic, affecting 329,000 people in the U.S. each year," said Scott Santarella, CEO with Global Lyme Alliance. "It's imperative for the community to understand what Lyme disease is, the risk to all, and the impact it can have, especially on children. We're grateful to Conde Nast and Meredith for helping GLA share this important message." The new PSAs showcase three unique stories, emphasizing that Lyme can impact anyone, anywhere, and that it can manifest itself in different ways. The important thing is to be aware of the risks, take steps to prevent a tick bite, and to be aware of symptoms if you suspect you may have Lyme disease.
GLA's New PSAs
Erin Walker, wife of six time PGA TOUR winner and 2016 PGA Championship winner Jimmy, and competitive equestrian, highlights the disparity of symptoms and how difficult the disease is to diagnose. Erin notes, "The weird thing with Lyme is that symptoms vary so wildly. This disease affects my husband and me in completely different ways. No wonder mainstream practitioners find it so hard to diagnose."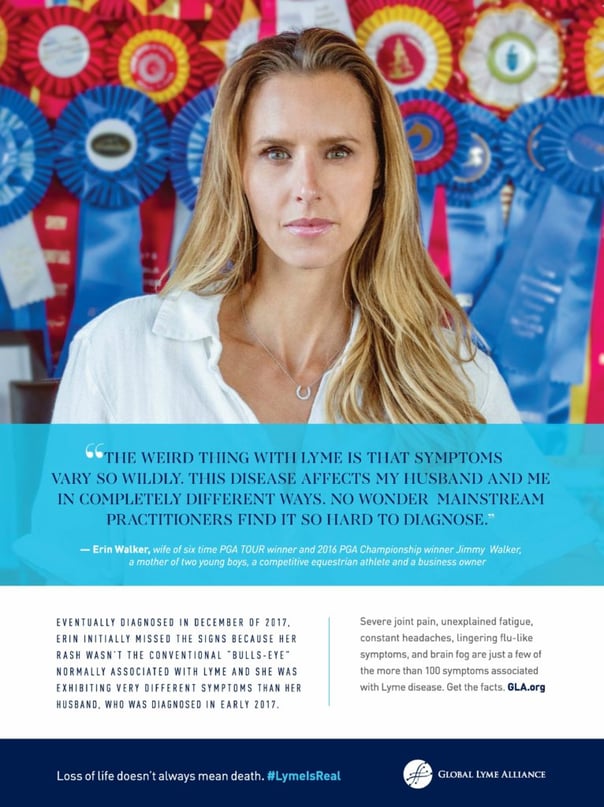 Jim Miller, professional Mixed Martial Arts and Ultimate Fighting Championship Lightweight Fighter, shares many of the symptoms he experienced pre-diagnosis. Jim explains, "More than a few minutes playing on the floor with my kids, the pain would set in, and I'd start to lock up. Since I was waking up everyday unable to move, I suspected it was rheumatoid arthritis."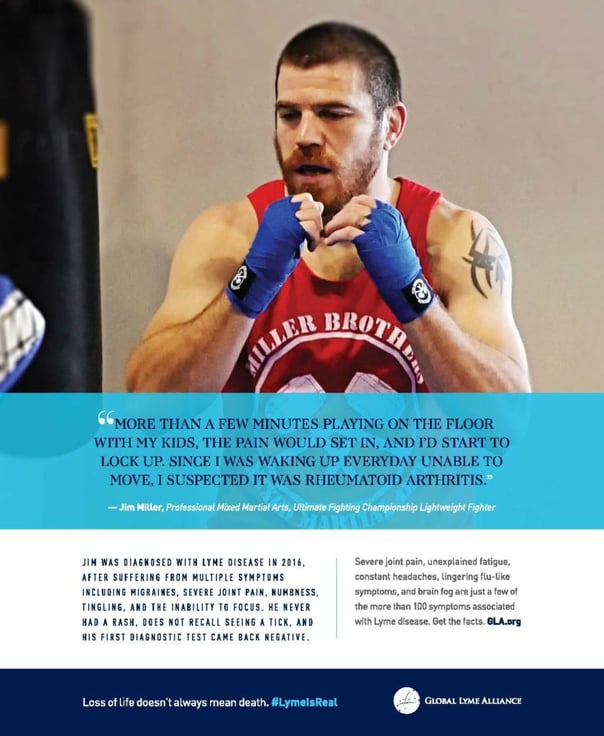 Skye Cowie, a 19-year old freestyle soccer player, shares her personal experience of doctor dismissal of her symptoms. Skye shares, "It's hard to remember a life without pain. Not a day goes by, not a second goes by, when I'm not dealing with the debilitating effects of Lyme disease."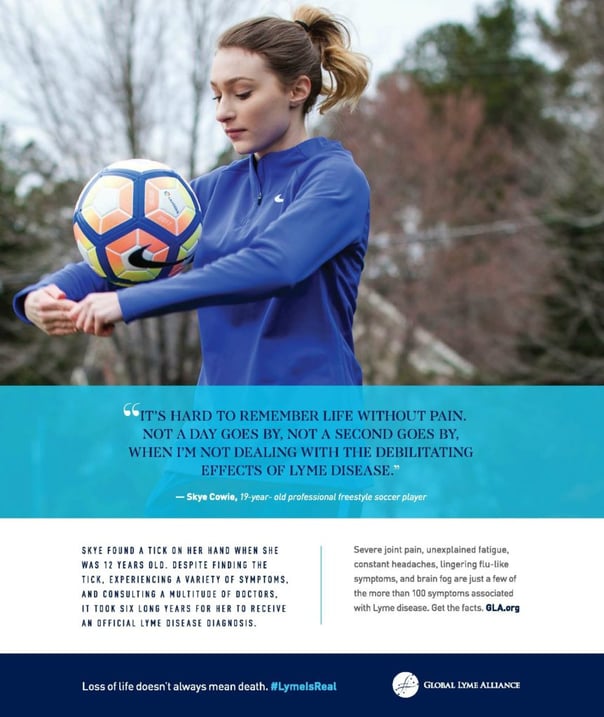 GLA hopes these PSAs will bring attention to Lyme disease and the fact that everyone is at risk.
We Want to Hear from You!
If you find our PSA in a magazine, please post a picture of the ad to social media and tag us on Facebook, Instagram, Twitter or LinkedIn! GLA's mission is to conquer Lyme disease through research, education and awareness. Should you or someone you know suspect they have Lyme disease, we encourage you to seek medical attention right away; GLA will help you find a Lyme-literate healthcare provider in your area. Check out the awesome campaign we created for Lyme disease Awareness Month!