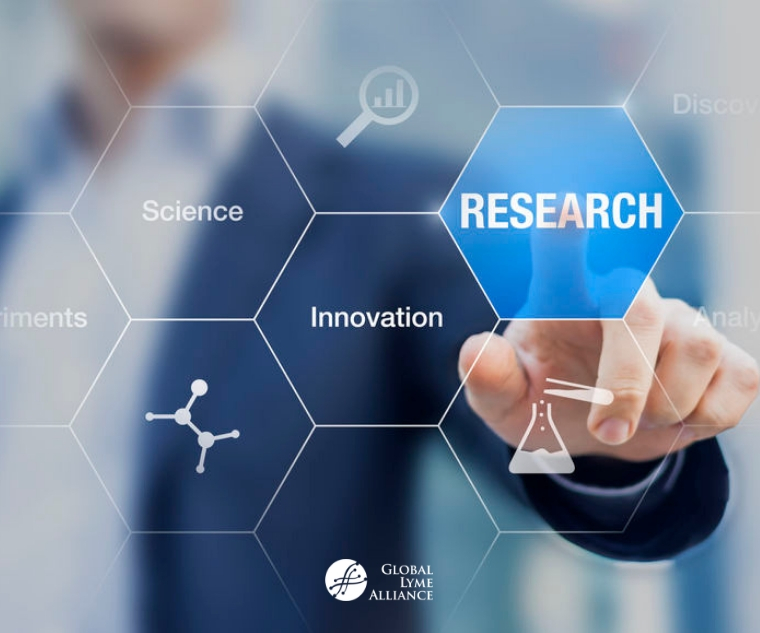 GLA's Lyme disease research initiatives range from diagnosing pediatric Lyme disease, new treatment protocols, to evaluating Lyme and suicide risks
STAMFORD, CONNECTICT (June 4, 2019)
Global Lyme Alliance (GLA), the leading 501 (c)(3) dedicated to conquering Lyme and other tick-borne diseases through research, education and awareness, today announced that it has awarded $2 million for new research grants and related projects to researchers at top-tier universities and medical institutions in the U.S. and abroad. This includes underwriting the largest population study ever to examine psychiatric disorders and suicide linked to Lyme disease.
Our new grantees span a broad spectrum of research interests in the tick-borne disease field," said Scott Santarella, GLA's CEO, "and are especially exciting in terms of their scientific breadth and depth. Our ongoing investment in the most promising scientific research is helping us to accelerate the pace of new diagnostic and therapeutic developments to benefit Lyme patients."
In announcing the new grants, Santarella noted that the total amount requested was the highest in GLA's history—more than $8 million, a 200% increase in funding requests from the previous year. "We were pleased to see such a strong interest in Lyme disease among researchers," he said. "It underscores the fact that the need for financial support is greater than ever before." Lyme is the fastest-growing vector-borne disease in the nation, yet "federal funding for tick-borne disease research is woefully inadequate compared to funding for many other diseases," said Timothy J. Sellati, Ph.D., GLA's Chief Scientific Officer. Despite the fact that over the past 25 years Lyme infections have increased substantially, only $30 million was allocated in 2018 for Lyme research by the National Institutes of Health. This for a disease which newly infects 427,000 individuals in the U.S. each year, compared with $36 million for mosquito-transmitted West Nile Virus, which affected about 2,500 in the U.S. in 2018 and $129 million for Hepatitis C, which affected 104,000 in the U.S. last year. GLA's grant recipients include:
Sheila Arvikar, M.D., Harvard Medical School, "Musculoskeletal Ultrasound Evaluation of Tendon Involvement in Lyme Disease"
Michael Eriksen Benros, M.D. Ph.D., Mental Health Center, Copenhagen University Hospital, "Nationwide Cohort Studies Examining Psychiatric Disorders and Suicidal Behavior after Lyme Disease"
Lise Nigrovic, M.D., M.P.H., Boston Children's Hospital, Harvard Medical School, "Novel Approaches to the Diagnosis of Lyme Disease and Other Tick-borne Co-infections in Children"
Benjamin Readhead, Ph.D., Arizona State University, "An Interesting Necroptosis Angle: Tickborne Disease and Alzheimer's Disease"
Rafal Tokarz, Ph.D., Columbia University, "Development and Validation of a Multiplex Serologic Assay for Tick-borne Diseases"
Ying Zhang, M.D., Ph.D., Johns Hopkins Bloomberg School of Public Health, "High Activity of Selective Essential Oils Against Borrelia Persisters"
All of GLA's projects are focused on helping patients. Among the projects funded is the organization's first-ever study in Denmark, a country that tracks all residents in demographic and health databases. One of the largest studies of its kind, it aims to use information on everyone born after 1977 (~2.44 million people) to evaluate whether Lyme disease is a risk factor for mental disorders, particularly depression and suicide.
Another research project being conducted at Boston Children's Hospital will support a pediatric biobank to collect patient samples and clinical data drawn from seven hospitals in seven Lyme-endemic states. This repository is a valuable resource for the development of new diagnostic tests and for understanding pediatric infection since patient DNA, mRNA and blood can be analyzed and correlated with patients' clinical presentation.
Moreover, GLA's support also includes continued funding for research efforts from the last 18 months, as well as funding for the Blackman-GLA Postdoctoral Fellowships Program. GLA has also started investing in clinical studies to accelerate patient impact. GLA's rigorous process for evaluating grant applications, unique among Lyme disease nonprofits, is modeled on the peer-review guidelines of the National Institutes of Health. Our Scientific Advisory Board (SAB) members, comprised of scientists in industry and academia who are all noted experts in medical research, immunology, and microbiology evaluate applications in their respective fields. Each application is then reviewed according to strict criteria, followed by a series of discussions to ensure that only the most promising applications are funded. Applications for the 2020 grants period will be accepted shortly.
### ABOUT GLOBAL LYME ALLIANCE
Global Lyme Alliance is the leading 501(c)(3) dedicated to conquering Lyme and other tick-borne diseases through research, education and awareness. GLA has gained national prominence for funding some of the most urgent and promising research in the world, while expanding education and awareness programs for the general public and physicians. We support those around the globe needing information about tick-borne diseases. Learn more at GLA.org.
---
LEARN MORE ABOUT GLA'S RESEARCH INITIATIVES