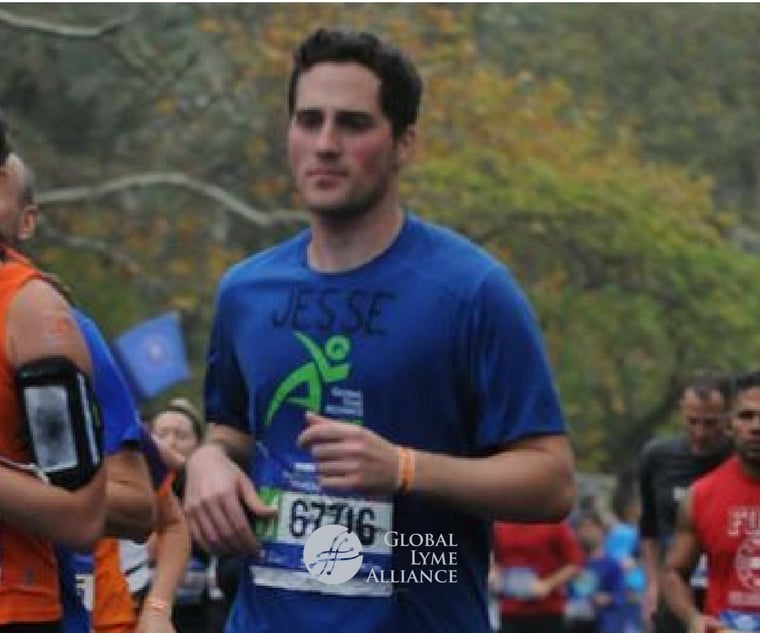 GLA is honored to be the first Lyme disease organization named an official charity partner of the 2018 TCS New York City Marathon
STAMFORD, CONNECTICUT (February 28, 2018)
Global Lyme Alliance (GLA), the leading 501(c)(3) dedicated to conquering Lyme and other tick-borne diseases through research, education and awareness, has been named an Official Charity Partner of the 2018 TCS New York City Marathon. The race will take place on Sunday, November 4, 2018. This is the first year that GLA will serve as an Official Charity Partner. "Global Lyme Alliance is thrilled to be named as an official charity partner of the 2018 TCS New York City Marathon," said Scott Santarella, GLA's CEO. "The TCS New York City Marathon provides a dynamic platform for us to raise significant funds and increase public awareness of GLA's efforts to eradicate Lyme and other tick-borne diseases. We look forward to supporting and celebrating our runners throughout their memorable journey to the iconic finish line."
More than 350 official charity partners will be part of the 2018 TCS New York Marathon. GLA has gained national prominence for funding the most urgent and promising tick-borne disease research in the field, while expanding education and awareness programs for the general public and physicians. Lyme disease has been found in all 50 states and is the fastest-growing vector-borne illness in the U.S., with 329,000 new cases annually, according to the Centers for Disease Control and Prevention. Despite its prevalence, Lyme can be extremely difficult to diagnose; standard diagnostic tests are inaccurate 55% of the time. And for those who are diagnosed and treated early, up to 20% continue to experience lingering and debilitating symptoms, which can include excessive fatigue, severe joint pain, brain fog, cardiac, and neurological problems
As an official charity partner, GLA has five entries to the 2018 TCS New York City Marathon. Individuals who run for Team GLA will receive guaranteed entry to the 2018 TCS New York City Marathon. Each runner must commit to raising a minimum of $2,500 for GLA. Members of Team GLA will receive fundraising resources and support, including a personal fundraising page, an invitation to the TCS New York City Marathon Eve Dinner, and a signature Team GLA racing shirt, swell bottle, earbuds and phone wallet. In addition, the highest fund-raiser over $5,000 will receive two tickets to GLA's 2019 New York City Gala. For more information and to apply, go to GLA.org/nycmarathon/.
"Running for people who aren't well enough to do so themselves is really an incredible experience," said Team GLA Captain Jesse Ruben, who was diagnosed with Lyme disease in 2013. For the past two years Ruben has run in the Marathon for GLA and the Lyme community. "I promise you," he said, "it will be the most amazing experience you've ever had. Join me, sign up, let's do it!"
"We are proud to welcome Global Lyme Alliance to our official charity partner program for the 2018 TCS New York City Marathon," said Christine Burke, vice president of runner products and services for New York Road Runners. "Participants in our official charity partner program are able to reach their goal of running 26.2 miles across New York City while directly impacting causes that are important to them through their fundraising efforts. We are inspired by their commitment and wish them the best of luck as they begin their amazing journey to the TCS New York City Marathon."
### ABOUT GLOBAL LYME ALLIANCE Global Lyme Alliance (GLA) is the leading 501(c)(3) dedicated to conquering Lyme disease through research, education and awareness. GLA has gained national prominence for funding the most urgent and promising research in the field, while expanding education and awareness programs for the general public and physicians. Learn more at GLA.org.
### ABOUT THE TCS NEW YORK CITY MARATHON The TCS New York City Marathon is the preeminent event of New York Road Runners (NYRR), the world's premier community running organization. Held annually on the first Sunday of November, it's the largest marathon in the world featuring over 50,000 runners, from the world's top professional athletes to runners of all ages and abilities, including approximately 9,000 charity runners. Participants from approximately 140 countries tour the diverse neighborhoods of the city's five boroughs - Staten Island, Brooklyn, Queens, the Bronx and Manhattan. Race morning also features the Rising New York Road Runners Youth Invitational at the TCS New York City Marathon in Central Park, with participants finishing at the same finish line that will be crossed hours later by the marathon field. More than one million spectators and 10,000 volunteers line the city's streets in support of the runners, while millions more watch the television broadcast. The race is a founding member of the Abbott World Marathon Majors, which features the world's top marathons—Tokyo, Boston, London, Berlin, Chicago, and New York—and crowns the top professional male and female marathoners each year. Tata Consultancy Services (TCS), a leading global IT services, consulting, and business solutions organization, is the premier partner of NYRR and the title sponsor of the TCS New York City Marathon. The 48th running of the TCS New York City Marathon is set for November 4, 2018. To learn more, click here.