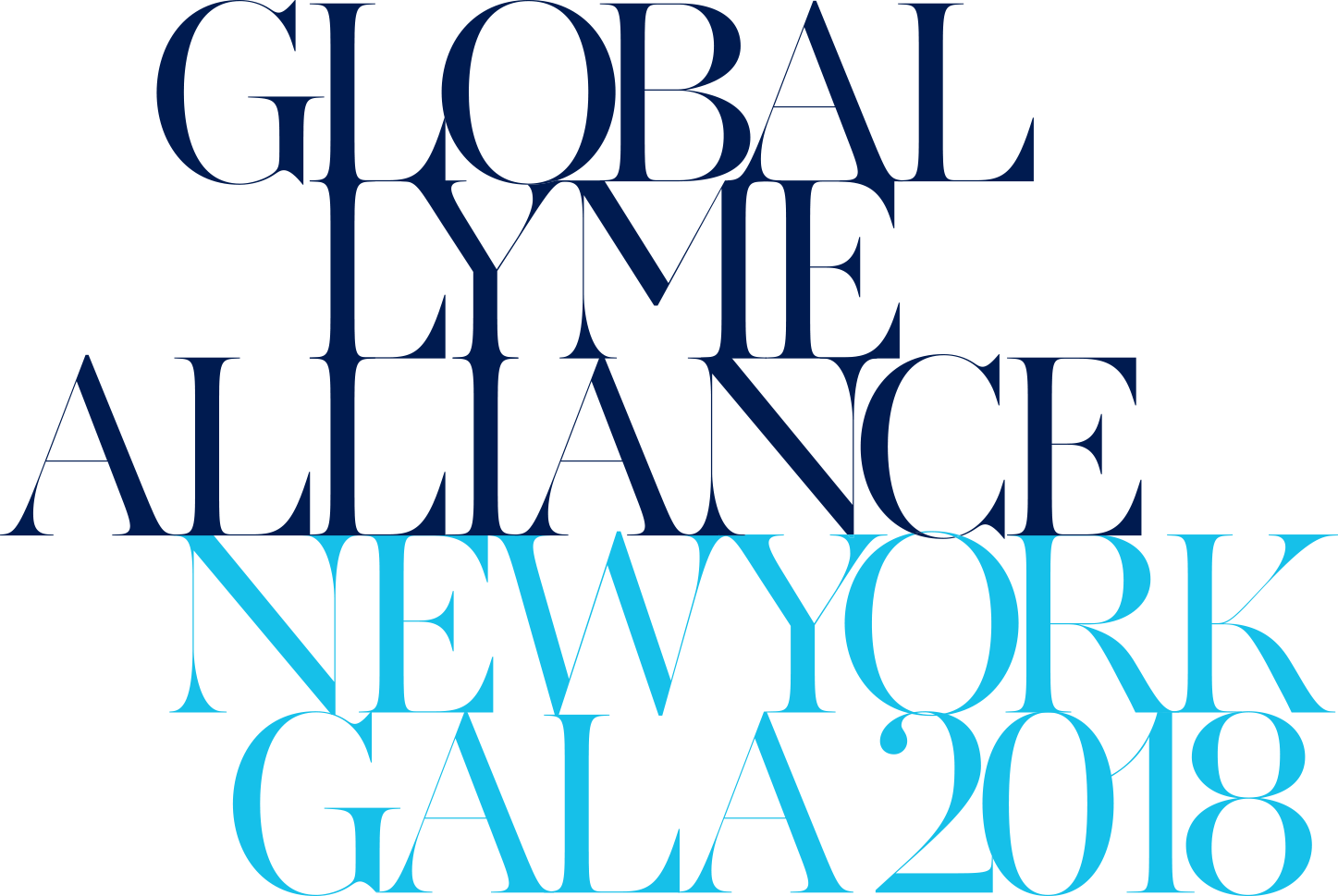 Marisol and Rob Thomas, Erin Walker, Jay McInerney among those slated to attend October 11, 2018 Gala at Cipriani 42nd Street. Tony Award-winning Broadway and television star Sutton Foster will headline the event.
STAMFORD, CONNECTICUT (September 17, 2018)
Global Lyme Alliance (GLA), the leading 501(c)(3) dedicated to conquering Lyme and other tick-borne diseases through research, education and awareness, will hold its 4th annual New York City Gala on October 11 th at Cipriani 42 nd Street. The event aims to raise Lyme disease awareness and research funds to improve diagnostics, treatments and ultimately find a cure for Lyme and other tick-borne diseases.
Erin Walker will serve as the evening's honored guest. As a mother, equestrian, business owner, and wife of 2016 PGA Champion Jimmy Walker, she is an active advocate for Lyme disease awareness and research. Both Erin and Jimmy Walker have been affected by Lyme, which is a global epidemic. According to the Centers for Disease Control and Prevention, more than 329,000 new cases are reported in the U.S. alone every year. "We are inspired by Erin and Jimmy's stories," said GLA CEO Scott Santarella, "and join them in their fight to not only find a cure for themselves, and the millions of others who are currently suffering from Lyme and other tick-borne illnesses.
This year, Global Lyme Alliance celebrated surpassing $10 million in research grant funding, a milestone in our commitment to accurately diagnose, treat and cure this potentially incapacitating tick-borne disease. But tens of millions of more dollars are needed if we are to convert promising tests and therapies from the lab to the doctor's office." More than 700 individuals, including celebrities, business leaders, philanthropists and noteworthy scientists, are expected to attend the event.
It will be hosted by Lori Stokes, co-host of FOX 5's "Good Day New York." Celebrated event planner Lawrence Scott is producing the evening including designing and donating the decor for the event. The Gala menu is inspired by Drew Nieporent of Myriad Restaurant Group, including Nobu. Sutton Foster, Broadway veteran and star of TV Land's "Younger" will headline the program. Foster is a two-time Tony Award winner for her starring roles in "Thoroughly Modern Millie" and "Anything Goes."
The Co-Chairs for the event include Joseph Abboud, celebrated menswear designer and author; Charles Balducci, co-founder, Snyder/Balducci Group, Merrill Lynch; Chris Corrinet, senior VP, CBRE; Robert Kobre, vice chairman, Credit Suisse; Jarrod Nadel, chief product development officer, Tailored Brands, Inc.; Drew Nieporent, owner, Myriad Restaurant Group; Peter Norley, COO, Credit Suisse Securities; and Larry Scott, owner, Lawrence Scott Events. Honorary Event Chairs include: Jay McInerney, Jim Miller, Mary Beth Pfeiffer, Mike Schneider, Victor Slezak, and Marisol and Rob Thomas. Platinum Sponsors include: Big Apple Circus, Credit Suisse, Nancy and Bob Del Genio, David Nolan Foundation, Lawrence Scott Events, Tailored Brands, and Withersworldwide.
The Global Lyme Alliance New York Gala will be held Thursday, October 11, 2018 from 6:30 p.m. until 11 p.m. at Cipriani 42nd Street, 110 East 42nd Street at Park Avenue. It features a cocktail reception, dinner and live auction. For more information, or to purchase tables or tickets, please contact Jennifer Kunin at 212-249-6188 or go to GLA.org/2018nygala.
### ABOUT LYME DISEASE
Lyme disease is an illness caused by the bacteria Borrelia burgdorferi, transmitted through the bite of an infected black-legged tick. The disease has been reported in all 50 states and more than 80 countries. All ages are affected, but children aged 3-14 are most at risk, with 200 new cases every day. Early diagnosis and treatment is the key to combating the disease. However, current diagnostics are 55% inaccurate, leading to delayed treatment. If untreated, Lyme disease can become a severely debilitating illness affecting multiple organs, including joints, heart, brain and other parts of the central nervous system. Even when treated early, up to 20% go on to suffer debilitating long-term symptoms that are difficult, if not impossible, to cure.
### ABOUT GLOBAL LYME ALLIANCE
Global Lyme Alliance (GLA) is the leading 501(c)(3) dedicated to conquering Lyme disease through research, education and awareness. GLA has gained national prominence for funding the most urgent and promising research in the field, while expanding education and awareness programs for the general public and physicians. To learn more about GLA's unrivaled focus on the science of Lyme, check out its inaugural research report here or visit its website at GLA.org.
---
Media Contacts: Jessica Sciacchitano Rogers & Cowan Jsciacchitano@rogersandcowan.com +1 212 878 5027 Holly Wainwright Global Lyme Alliance Holly.Wainwright@GLA.org +1 203 883 6603