This blog post is part of our People to Highlight Series during our 2020 Year-End Appeal. Each week we'll be spotlighting a GLA community member who has helped to advance our mission. To support GLA during our year-end appeal,

donate here
.
Fighting Back: My Healing Journey
by Bill Beesmer
When I was four years old, my dad died, leaving behind sixteen children for my mother to raise alone. We lived in a small house with no indoor plumbing. I do not know how my mother, who was pregnant when our father died, found the strength and resources to raise, feed, and clothe all of us. I refuse to allow a poorly diagnosed case of Lyme disease to take me out without a fight. I owe that to my mother, myself, and every person who has been impacted by this disease. I am honored to share my story.
In 2013 during the July Fourth weekend, two significant events occurred. I turned seventy years old, and I also found an engorged tick on my bathroom floor. I live alone and I do not have pets, so I assume the tick had been on me as I had just spent days doing yard work. The next business day, I took the tick and myself to my general practitioner (GP). I had no sign of a rash or an entry location, so doxycycline was not prescribed, and the tick was not sent to a lab for testing. In hindsight, these were huge mistakes. I did not know any better and neither did my GP.
Within a few weeks, I developed excruciating pain in my lower back and buttocks requiring a rescue squad trip to the emergency room. This happened twice, and I was never tested for Lyme, even though I told the doctors about the tick. Shortly after that, I developed pain and weakness on my right side from my ribs to my toes. Within five weeks, my right side atrophied, and I lost 40 pounds. The back pain never abated or lessened. I was in constant agony. Finally, my GP sent me to a neurosurgeon who ordered an MRI of my thoracic spine, a CAT scan, and an EMG. The neurologist that performed the EMG wrote in his report that I had experienced diabetic neuropathy. Having been a type II diabetic for over 50 years, this did not make sense to me. Later, a neurologist and an infectious disease doctor refuted this, agreeing it was tick-borne disease related.
My deterioration continued, and In February of 2014, I had my severely swollen right knee aspirated by an orthopedic surgeon. Knowing about the tick encounter, the surgeon had my knee fluid tested. Tests were positive for Lyme. That is how and when I learned I had Lyme disease.
In the following months and years, I saw many doctors, including a neurologist, an infectious disease doctor at Mass General Hospital in Boston, and two "Lyme-literate" doctors. The infectious disease doctor ordered a spinal tap, and my spinal fluid tested positive for Lyme disease. My treatment was a PICC line placed in my right arm to receive 28 consecutive days of Rocephin infusions. My last infusion was in February 2020.
Since July 2013, I have spent more than $30,000 on out-of-pocket medical expenses. This includes supplements, blood tests, and doctor visits not covered by insurance, primarily because Lyme-literate doctors do not accept insurance. It stings to have to write a check for Lyme diagnosis and treatment. This is happening to hundreds of thousands (maybe millions) of people tolerating Lyme and other co-infections with limited resources. This disease needs to be covered by insurance.
I first learned of Global Lyme Alliance (GLA) when searching online for a dynamic Lyme organization. I reviewed several Lyme groups' history and financial statements. I was looking for a trustworthy nonprofit organization where I could confidently donate to Lyme research. After examining GLA's financial statements and speaking with key staff members, GLA rose to the top of my list very quickly.
Global Lyme Alliance has been helpful to me in many ways. The staff has always responded promptly to my many questions, often directing me to research sites, articles and informing me of medical advances. A few years ago, GLA invited me to a Lyme research summit for donors. The presenters were doctors, scientists, and clinical researchers from hospitals and medical schools throughout the United States. I was impressed to learn that GLA grants had funded much of their work due to donations made possible by GLA donors like me. The summit was a fantastic experience. Lyme had taken so much from me, and I needed to know people were fighting back.
Given the rampant spread of Lyme disease and co-infections with no current cure, I decided to get involved and do more. When I was asked to become a GLA Lyme Education Ambassador, it was the icing on the cake. I have learned so much about Lyme disease and the advances being made. To this day, I often call GLA staff with questions or for guidance. They are always there to help.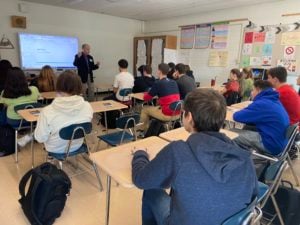 I am honored to help educate people in my area, the beautiful Hudson Valley, and raise Lyme disease awareness. I disburse GLA posters and flyers, I speak at social clubs and schools, and wherever I can find an audience. The pandemic has curtailed all that, so we have had to find creative ways to raise funds for these programs and much-needed research. I want to thank my family and friends, who helped me generate over $75,000 while fundraising for GLA in 2019.
I am sure that you know somebody who has experienced the devastating impact of Lyme disease and how helpless they felt. Look at what my mom was capable of when it seemed like there was no help in sight. She taught me how to fight for what was right, which is exactly what I am doing. I ask you to join forces with me and GLA to make meaningful progress on Lyme patients' behalf. It is never too late to help. Your contribution will make a difference. Thank you for stepping up.
Read more stories in our People to Highlight Series.
---
As you may know, GLA is solely funded by donor support. Due to COVID-19, we have been unable to hold our usual fundraising events. Please donate below if you'd like to support GLA's research, our programs, and our mission.