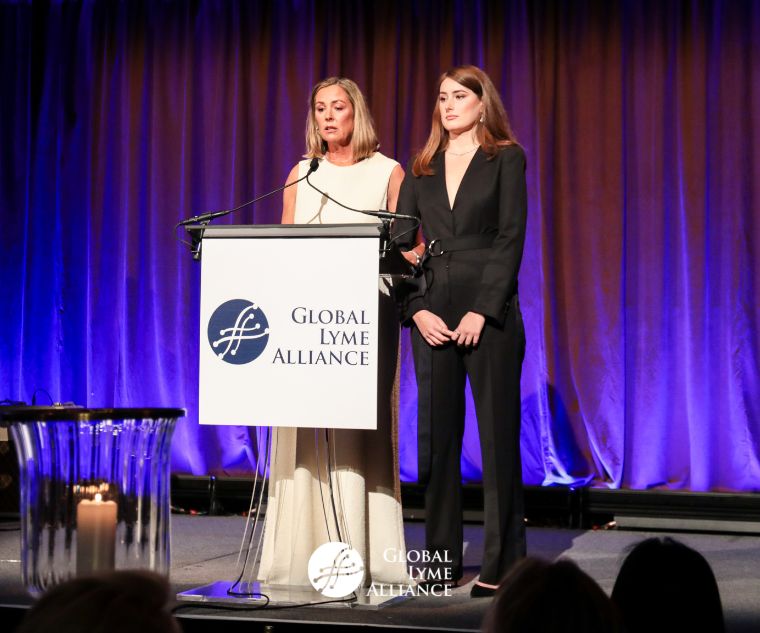 Watch and listen to some of the heartfelt, inspiring, and educational speeches from the GLA Global Gala 2022
Chris Meloni, Nicole Miller, Kelley Flanagan, and Peter Weber were among guests in attendance at the organization's first in-person gala since 2019!
Paul Ross, Chairman of GLA Speech
Paul discusses GLA-funded research advancements and gives insight into the vitally important and impactful organization that is the Global Lyme Alliance.
Laura MacNeill, GLA's CEO Speech
Laura MacNeill, CEO of Global Lyme Alliance (GLA) highlights notable accomplishments that GLA has made to date.
Kim Cleworth 2022 GLA Global Gala Honoree Speech
"Lyme disease stripped me of my life, and I am not the patient but simply the caregiver to an amazing daughter who fought the hardest fight of her life at way too young an age."
Atty Cleworth 2022 GLA Global Gala Honoree Speech
Atty Cleworth was honored with her Mother, Kim Cleworth at the 2022 GLA Global Gala. Atty Cleworth is a Lyme Patient who also co-executive produced the film, "I'm Not Crazy, I'm Sick."
Ashley Loren's Speech
Broadway star Ashley Loren speaks to guests at the 2022 GLA Global Gala to tell her Lyme story, gives hope and explains why GLA's work is important.
For more related content:
Global Lyme Alliance Raises Over $1.85 Million at 7th Annual GLA Global Gala
The above material is provided for information purposes only. The material (a) is not nor should be considered, or used as a substitute for, medical advice, diagnosis, or treatment, nor (b) does it necessarily represent endorsement by or an official position of Global Lyme Alliance, Inc. or any of its directors, officers, advisors or volunteers. Advice on the testing, treatment or care of an individual patient should be obtained through consultation with a physician who has examined that patient or is familiar with that patient's medical history.