by Jennifer Crystal
Former adaptations have helped me to reframe my perspective on new ones that I've had to make during the pandemic…
This past weekend, a friend told me about a park with a chasm that she had visited with her young family. They slid down the chasm, scrambled up rocks, and even found a playground.
"That sounds so cool!" I said. "How did you find this place?"
"It's just a few towns away from here," she replied. "If it weren't for the pandemic, we never would have discovered it." She explained that being in lockdown, and then trying to keep her family safe when they could start going to public places, has helped her come up with new, creative activities, and to explore off-the-beaten-path places that they might have otherwise overlooked. "We figured everyone would be going apple-picking," she said, "so we looked for something a little different." With just a few other masked people around, my friend and her family were able to safely explore the park. "It was such a fun day," she recalled.
"Fun" is not something we generally associate with the pandemic. Most people feel at their wit's end, living in close quarters, trying to negotiate working from home and homeschooling, dealing with job losses or other financial strains, and worrying about getting sick. As I discussed in my post "Living in the Present While Worrying About the Future", it can be hard to maintain balance during these unprecedented times, let alone have fun.
But as living with tick-borne illness has taught me, having to adapt one's life isn't always a bad thing. In fact, it can lead us to enjoy and appreciate activities, both old and new, even more.
When I was acutely ill with chronic active Epstein-Barr virus, Lyme disease, and two other tick-borne illnesses babesiosis and ehrlichiosis, I was bedridden. I couldn't do my favorite activity, skiing. But being in bed allowed me to reconnect with three other activities I'd formerly enjoyed: writing, scrapbooking, and calligraphy. The first would become my career, but at the time, it was merely a fun escape, a way to record happier times and engage my brain when it wasn't overwhelmed by brain fog. Scrapbooking was something I'd always enjoyed but hadn't had time to do when I was healthy, because I was busy working, skiing, and socializing. Calligraphy was a craft I'd learned from my second-grade teacher and enjoyed practicing in grade school, but had long since forgotten. These latter two activities were low-key and relatively easy, at least on days when my hands weren't shaking from neurological symptoms. I could do them for a couple hours or even a couple minutes, right on my bedroom floor, and then stop to rest.
And to my surprise, I enjoyed them. They reconnected me with a younger version of myself. They helped pass the time. They gave me a creative outlet. Perhaps most importantly, they allowed me to be part of weddings and showers that I had to miss. Instead, I made scrapbooks for couples and calligraphed invitations and table cards. Now, during COVID-19, I intend to do this again for weddings that I can't attend due to travel and social distancing concerns.
Now in remission, I am able to ski and do other activities that I couldn't do when I was really sick, and I appreciate them even more. Before I got sick, I lived in Colorado and skied the Rocky Mountains. I turned into a "ski snob," scoffing that I'd never ski back East again. But my perspective changed when I suddenly couldn't ski at all. When I finally completed enough physical therapy to do one run on the bunny slope at a little New England hill, I cried with joy. That day helped me to see that I didn't have to ski long, hard trails to enjoy my favorite activity. As I explained in my post "Reclaiming My Identity," skiing the smaller trails I'd once snubbed was certainly better than not skiing at all.
And while I ski those smaller trails, I now take more time to "stop and smell the roses". My sensory awareness is heightened. In his New York Times essay "In My Chronic Illness, I Found a Deeper Meaning," Elliot Kukla writes, "As the pace of my life slowed, I could appreciate sensual pleasures in a new and heightened way: sunlight outside my bedroom window, my dog's velvety fur, a cool breeze in my garden, richly colored flowers. On days when my brain was too fogged to do anything, I let myself float in and out of a rich, infinitely layered dream world."
My own new reality has become richly layered in a way I couldn't have imagined before I got sick. Former adaptations have helped me to reframe my perspective on new ones that I've had to make during the pandemic, just as my friend has discovered newfound appreciation for alternate family fun. This perspective shift is something many families had to make this Halloween as they looked to adapt trick-or-treating in a COVID-19-safe manner. Some communities did socially distanced costume parades. Others worked together to find ways to give out treats without kids coming to doors. One friend's family had their own Halloween celebration, with a haunted house, pumpkin carving and face painting, and a candy-tasting contest. The celebration was smaller and different than usual, but her family may have just started a new tradition!
Halloween 2020 is sure to be one that kids will never forget—and that might be for the best.
For more blog posts, click here.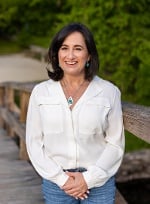 Writer
Opinions expressed by contributors are their own. Jennifer Crystal is a writer and educator in Boston. Her work has appeared in local and national publications including Harvard Health Publishing and The Boston Globe. As a GLA columnist for over six years, her work on GLA.org has received mention in publications such as The New Yorker, weatherchannel.com, CQ Researcher, and ProHealth.com. Jennifer is a patient advocate who has dealt with chronic illness, including Lyme and other tick-borne infections. Her memoir, One Tick Stopped the Clock, is forthcoming from Legacy Book Press in September 2024. Ten percent of proceeds from the book will go to Global Lyme Alliance. Contact her via email below.