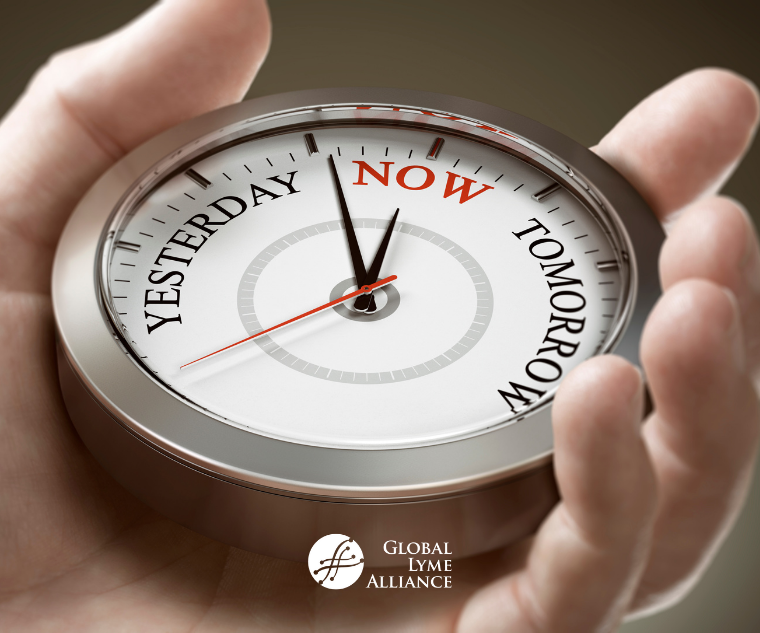 by Jennifer Crystal
Tips and resources for living in the present during challenging times.
As schools resume and cooler weather rolls in, the country is bracing for a possible second wave of COVID-19. The U.S. death toll recently surpassed 200,000, and the last two weeks have seen an increase of cases in many areas. With concerns about what fall and winter will bring, especially as we move into flu season, it can be hard to stay grounded in the present.
Lyme patients know this conundrum all too well. Late-stage tick-borne illnesses end to follow a relapsing pattern: patients have good days and bad days, sometimes good months and bad months. When we're feeling well, we have a hard time trusting and enjoying that health, because we know the other shoe could drop at any moment. We, too, are always bracing for another wave.
Not only is it hard to stay present when you're worried about the future, but it can be difficult to enjoy the present when it itself is difficult. The pandemic has people at their wit's end trying to negotiate working from home with homeschooling, isolating from loved ones, and worrying about illness and finances. In acute phases of Lyme and other tick-borne illnesses, patients also feel at their wit's end as they deal with crushing fatigue, joint aches, migraines, and neurological symptoms. In both cases, the suffering can be so intense that people wish they could escape to a better time in the past or future.
While escapism has its merits, it's important that we accept our current situation(s) and find ways to live presently. Why? Because no matter how bleak the present is, it's all we are guaranteed. Whether we're healthy or ill, living in a pandemic or not, none of us know what tomorrow will bring. Therefore, we can't let the present pass us by.
What I've learned from living with tick-borne illnesses for over 20 years, from battling long-haul COVID-19, and from sometimes wanting to escape from both, is this: the best way to stay present is to prepare for the future. Our anxieties are valid and have their place. Acknowledging them can help us prepare for the worst, and that can then allow us to live more fully in the present.
What does preparation look like in practice? During COVID-19, we can wear face masks, following social distancing protocols, wash our hands, and create contingency plans for school and work. While these steps don't guarantee we won't get COVID-19, they do lower our risk. Contingency plans give us safety nets.
During periods of remission from tick-borne illness, we can stay on maintenance medication or supplements, continue with adjunct therapies, exercise, eat well, follow good sleep hygiene, and try to keep stress levels down. If we're in remission or even if we have recovered completely, we can continue to Be Tick AWARE™, taking precautions like wearing repellent, doing tick checks, and staying on cleared paths so as not to get re-infected. We can make sure we have a good support system—doctors, caregivers, resources. As with COVID-19 precautions, these steps won't make us immune to another tick bite or relapse, but they do lower the risk.
Once we're prepared for the future, we can live more freely in the present. Even in trying times, there are ways to enjoy ourselves, and ways to reduce stress. In my post "What Lyme Patients Can Teach Us About the New Normal", I outline some ideas for managing school and work this fall. In my post "Adding Joy and Pleasure to Life, No Matter When", I talk about enjoying small moments and activities while we wait for health, for bigger moments and activities to be possible, for better days. Even in a pandemic, families can create fun rituals like weekly movie or game nights. Even in the throes of illness, Lyme patients can enjoy a friend's visit, laugh over just five minutes of a silly movie, or give themselves an at-home spa treatment.
And while we enjoy the present, there's certainly no danger in hoping for a brighter future, even visualizing it. Sometimes just the idea of hope is enough.
One difference between battling Lyme and living through a pandemic is that we are all experiencing the latter together. We have similar fears. We have similar hopes. And we can find ways to enjoy the present, together. As I've said before, there is comfort in that solidarity.
Related Posts:
Corona With a Twist of Lyme: Part 4
What Lyme Patients Can Teach Us About the New Normal
Adding Joy and Pleasure to Life, No Matter When
The Idea of Hope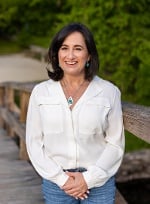 Writer
Opinions expressed by contributors are their own. Jennifer Crystal is a writer and educator in Boston. Her work has appeared in local and national publications including Harvard Health Publishing and The Boston Globe. As a GLA columnist for over six years, her work on GLA.org has received mention in publications such as The New Yorker, weatherchannel.com, CQ Researcher, and ProHealth.com. Jennifer is a patient advocate who has dealt with chronic illness, including Lyme and other tick-borne infections. Her memoir, One Tick Stopped the Clock, is forthcoming from Legacy Book Press in September 2024. Ten percent of proceeds from the book will go to Global Lyme Alliance. Contact her via email below.