by Jennifer Crystal
As many of you know from my previous blog posts and my webinar with Daniel Cameron, M.D., I got sick with COVID-19 in mid-March. I have charted my progress with in Corona With a Twist of Lyme Part 1, Corona With a Twist of Lyme Part 2, and Corona With a Twist of Lyme Part 3. This final installment will give an update on how I'm doing and offer some overall thoughts from my experience.
The biggest news to report is that is I got a positive COVID-19 antibody test in early June. This was exciting not just because it meant I had recovered from and build antibodies against the virus (though we don't know how long those antibodies will last), but because it validated the clinical diagnosis my doctor had made months earlier. My original COVID-19 test, done six days after onset of symptoms came back negative. Given the 30% false negative rate of these tests; the timeline of my test; certain medications I was on that may have affected my results; and the fact that I had classic COVID-19 symptoms including vomiting, low-grade fever, dry hacking cough, shortness of breath, and complete loss of taste and smell, my doctor was sure the test result was inaccurate. She told me to assume I had COVID-19, to treat symptoms accordingly, and to quarantine.
So it didn't come as a great surprise when my antibody test came back positive, but the news did offer relief. I knew what I had. My doctor knew what I had. The positive antibody test validated that knowledge and confirmed I'd recovered, but it wasn't a necessary diagnostic tool.
Sound familiar? Lyme warriors are well-versed in living with an illness that doesn't yet have a fool-proof diagnostic test. We are used to having to rely on the clinical expertise of Lyme Literate Medical Doctors (LLMDs). When we get positive test results from specialized labs, we feel validated, but we also know that those results aren't the end-all to tick-borne illness. As I mentioned in an interview I gave to Undark for the article "In the Uncertainties of Lyme Testing, Lessons for COVID-19", "What I learned from Lyme disease was you have to treat the patient, not the test."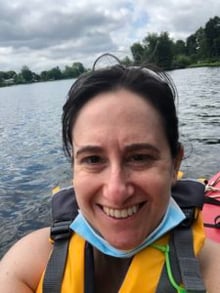 And as with Lyme, recovering from COVID-19 doesn't mean I'm immune to it, so I still need to take necessary precautions. That said, these days I am literally and figuratively breathing a little easier. While I do still get some tightness and soreness in my lungs, especially after exertion, it's much better than it was at the time of my Corona With a Twist of Lyme Part 3 report. In that post I set an intention of kayaking and paddleboarding by the end of summer. As evidenced by the photo below, I have met part of that goal! In fact, as of this writing, I have been kayaking three times, and each time my arms and lungs have felt stronger. Though I still use an inhaler, I've lowered the dosage, and I hardly cough at all these days. I plan to try swimming next week, and if that goes well, I hope to paddleboard next.
Aside from the residual lung inflammation, I have no remaining symptoms of COVID-19. I have been fever-free since mid-May. My energy is just about back to baseline. My senses of smell and taste are back fully (though my sense of smell is not quite as strong as it once was, and a couple food items taste different now—small prices to pay to generally be able to smell and taste everything). I don't feel constantly dehydrated like I did during acute COVID-19. I have no residual head or sinus pressure.
Most importantly, I don't feel sick; I just feel like myself. After a Zoom class, one of my creative writing students recently asked me, "Are you feeling better? Because in the last few weeks, it just seems like you're back."
I am, and I intend to stay.
***
Additional COVID-19 and Lyme Disease Resources:
GLA POV: Parallel Pandemics: COVID-19 and Lyme Disease
Blog: Q&A on COVID-19 and Lyme Disease with LLMD
Blog: Personal Patient Experience with COVID-19 and Lyme Disease
Video: Webinar with Dr. Cameron and Lyme-COVID-19 patient
Letter: GLA CEO Addresses COVID-19 and GLA Community
Letter: GLA Chairman on What We Can Learn from COVID-19 Response
---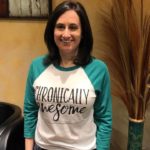 Opinions expressed by contributors are their own.
Jennifer Crystal is a writer and educator in Boston. Her memoir about her medical journey is forthcoming. Contact her at lymewarriorjennifercrystal@gmail.com.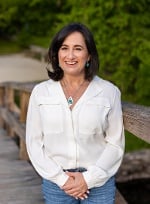 Writer
Opinions expressed by contributors are their own. Jennifer Crystal is a writer and educator in Boston. Her work has appeared in local and national publications including Harvard Health Publishing and The Boston Globe. As a GLA columnist for over six years, her work on GLA.org has received mention in publications such as The New Yorker, weatherchannel.com, CQ Researcher, and ProHealth.com. Jennifer is a patient advocate who has dealt with chronic illness, including Lyme and other tick-borne infections. Her memoir, One Tick Stopped the Clock, is forthcoming from Legacy Book Press in September 2024. Ten percent of proceeds from the book will go to Global Lyme Alliance. Contact her via email below.