GLA launched its Peer-to-Peer Mentor Support program in June 2019. The inspiration for this important program was our friend Kasey Passen.
When Kasey Passen, a Chicago chef and nutrition expert, contacted Global Lyme Alliance's CEO Scott Santarella with an idea three years ago, she had no idea of the positive impact she would ultimately have for many Lyme disease sufferers.
Kasey, who lost her battle with Lyme disease last year, wanted to raise awareness about the illness and introduce GLA to Chicago. She also spoke about her desire to eventually create for Lyme patients what her friend Jimmy Imerman had created with Imerman Angels, his one-on-one support nonprofit for those dealing with cancer.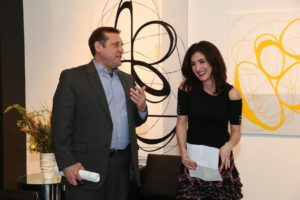 In March 2017, thanks to Kasey, GLA held a highly successful education and cultivation event to raise awareness about Lyme disease in and around Chicago (Kasey, pictured at the first event with GLA's Scott Santarella). Not five months later, she and three other Lyme warriors put together the first of what has become our hugely successful annual SubLyme Soirée event there.
But Kasey wanted to do something more. Before Kasey left us she spoke again with Scott about establishing a peer-to-peer network for Lyme patients. Kasey understood better than anyone that the Lyme journey is often a lonely one, even when you have a support system.
Sharing your story with a fellow patient and in turn receiving support and understanding is for many an essential part of battling this insidious disease. After Kasey passed, Scott made a promise to make Kasey's dream—her legacy—come true.
We are therefore proud to say that in June of this year GLA launched the Peer-to-Peer Network in Kasey's honor, modeling it after Imerman Angels. The Peer-to-Peer Network matches Lyme patients, caregivers and family members with trained Lyme mentors who have had the disease, who will provide one-on-one emotional and practical support and, thus, hope.
We thank Kasey for her idea, her passion, her understanding of the real power of compassion as it impacts the lives of those touched by Lyme disease.