Just because I am sick doesn't mean I have to live a sick life. When I was first diagnosed, I felt that people looked at me as a sick person and not the strong and confident woman I am. I know that there are millions of Americans like me who are living with a chronic condition, but there are so few companies that have been created by patients to fulfill patient needs. Mighty Well is changing that. – Emily Levy, CEO of Mighty Well
The Story of Mighty Well
Emily Levy is an award-winning social impact entrepreneur, who at 25 is passionate about advocating for the patient perspective in healthcare. As a college sophomore, she was diagnosed with chronic neurological Lyme disease and several of its co-infections. Like many others, she had gone undiagnosed for seven years and then had a peripherally inserted central catheter (PICC) line inserted into her arm for regular antibiotic treatment.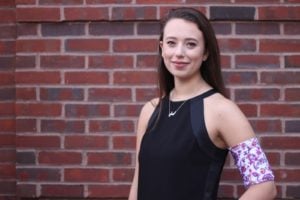 Emily recalls when her PICC line was inserted, "I was shocked to learn that my doctors recommended I wear a cut up sock on my arm to protect the medical device. Seriously. A sock! But the reality was that was the best I could do at the time, and that cut off sock served as a constant physical reminder of my illness. All of the sudden I went from a student to a sick girl with a medical device in her arm."
But she was determined not to let this make-shift solution stigmatize her as a sick person. Instead, she turned her illness into opportunity. With the help of her now husband, Yousef Al-Humaidhi, and her best friend, Maria del Mar Gomez, Emily developed the PICCPerfect PICC line cover, a stylish, functional alternative to traditional options (nasty cut up socks). In doing so, she quickly realized she could improve many lives by creating additional products designed around the same set of values. All of Mighty Well's products help patients turn their sickness into strength.
Why partner with GLA?
Mighty Well is on a mission to help patients build their support networks, including the relationships and resources they need to thrive while living with serious or chronic illnesses. "Empowering patients is in our DNA," says Emily, Mighty Well CEO.
"As a Lyme patient, I've always admired GLA's work on behalf of the Lyme community. In thinking about the ways Mighty Well could give back, I wanted to support GLA, whose mission is of personal importance to me, my team members, and friends. We're honored to work with them to help raise funds to support their vital research to find a cure for Lyme disease."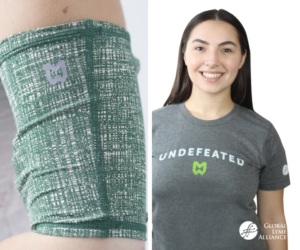 This spring, 50% of the sales of Mighty Well's GLA Branded Undefeated T Shirts and Green Tweed PICCPerfect PICC Line Covers will be donated back to GLA.
PICCPerfect utilizes fabric technologies developed for athletes and applies them to the medical industry. The product line also features stylish apparel and accessories which enable concealment of medical devices and supplies while allowing easy access for treatment. They also carry a range of items to help motivate and support consumers battling illness, including hats and t-shirts. You can check out all of their products at mightywell.com.
The partnership with Mighty Well will run through the end of Lyme Disease Awareness Month, May 31, 2019. Shop Mighty Well now to support GLA!
---
In order to advance our mission, GLA occasionally partners with brands to develop mutually-beneficial fundraising campaigns, co-branded merchandise and sponsorships that bring the Lyme community together for the purpose of having a greater impact in the fight against Lyme disease. If you are interested in becoming a brand partner or sponsor, please email: marketing@gla.org