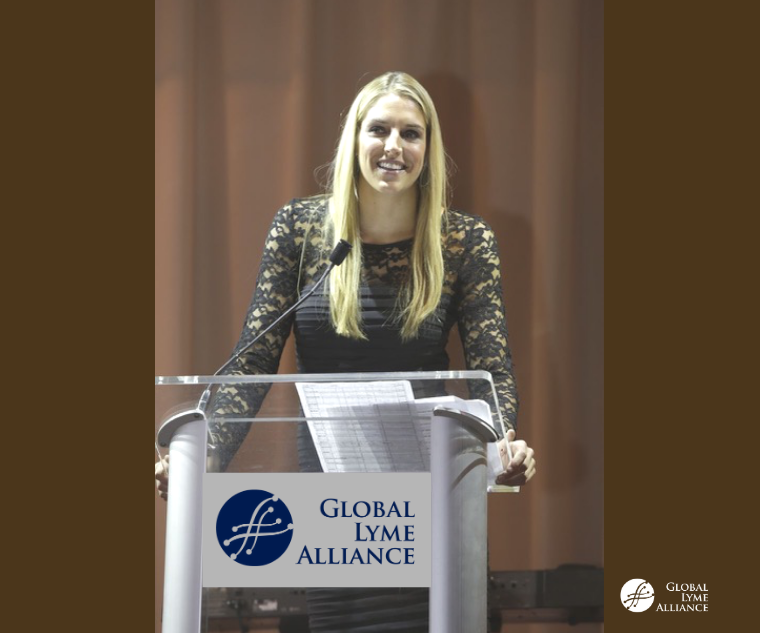 Chronic Lyme Disease Can Increase One's Risk to Contract COVID-19 and Suffer Increased and Heightened Symptoms
STAMFORD, CONNECTICUT (July 15, 2020)
Global Lyme Alliance, the leading 501(c)(3) dedicated to conquering Lyme and other tick-borne diseases through research, education, awareness and patient support services, said today that it stands in support of Washington Mystics superstar Elena Delle Donne, whose request to opt-out of the 2020 season for medical reasons has been denied by the WNBA.
After consulting with her long-time physician, Delle Donne, the WNBA's reigning MVP, had asked to sit out the season because she has battled Lyme disease since 2008 and believes she is at high risk for contracting and having complications from COVID-19. An independent panel of physicians appointed by the WNBA, however, ruled she is not at high risk and will have to play when the basketball season starts this month in Bradenton, Florida, or not get paid.
In a statement provided to ESPN, Delle Donne said she appreciated the League's efforts to provide as safe an environment for the players. "The question," she said, "is whether or not the WNBA bubble is safe for me…My heart has gone out to everyone who has had to choose between their health and having an income, and of course to anyone who has lost their job, their home, and anyone they love in this pandemic. I'm thinking things over, talking to my doctor and my wife, and look forward to sharing what I ultimately plan to do [in light of the WNBA's decision] very soon."
"The WNBA panel of physicians' findings speak to the gross misunderstanding and lack of acknowledgment by the mainstream medical community about the persistent and chronic impact of Lyme disease," said GLA CEO Scott Santarella. "GLA stands in support with Elena knowing that Lyme patients like her are often immunocompromised, making them more susceptible to possible complications from COVID-19 and therefore at higher risk for exposure to the virus."
As the world learns more about the impact of COVID-19, GLA hears from patients and Lyme-treating physicians every day how the disease has wreaked havoc on patients' already fragile health. GLA-funded research has shown unequivocally that Lyme disease can exist in a persistent or chronic form, even following antibiotic treatment. According to GLA's Chief Scientific Officer, Timothy Sellati, Ph.D., "At least 68 publications in peer-reviewed scientific and medical journals spanning 1985 to 2019 describe the chronic infectious and persistent nature of Lyme disease."
These findings cannot be dismissed by the WNBA's panel of physicians. It's estimated that there are 427,000 new cases of Lyme disease in the U.S. every year. Even when diagnosed and treated early, up to 20% continue to experience debilitating symptoms. For those not diagnosed early, treatment success can vary greatly. With late-stage or chronic Lyme disease, which Delle Donne has, the bacteria can adversely affect multiple organ systems, joints, the heart, the brain, and parts of the peripheral nervous system. A GLA study further estimates that two million people could suffer from post-treatment Lyme disease by the end of 2020.
Delle Donne has a longstanding relationship with GLA. In 2014 (pictured above), she spoke at the organization's annual gala about her struggles with Lyme disease and the need for raising awareness. She was also honored that night with its StarLight Award for helping to educate Americans about the devastating impact of Lyme disease.
Click to read Elena share her story with TODAY.
---
### ABOUT GLOBAL LYME ALLIANCE
Global Lyme Alliance (GLA) is the leading 501(c)(3) dedicated to conquering Lyme disease through research, education, awareness, and patient services. GLA has gained national prominence for funding the most urgent and promising research in the field, while expanding education and awareness programs for the general public and physicians. We support those around the globe in need of information about tick-borne diseases, finding a Lyme treating physician, and with the first Lyme-specific peer-to-peer mentor support program. Learn more at
GLA.org