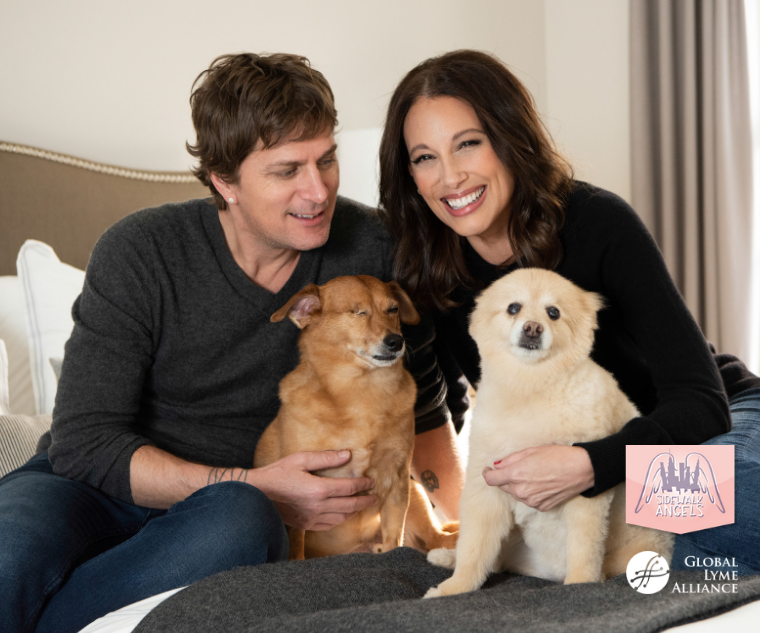 Sidewalk Angels Foundation and Global Lyme Alliance Partner to Protect All Family Members from Lyme and Tick-Borne Diseases
STANFORD, CONNECTICUT (June 12, 2019)
Through their Sidewalk Angels Foundation (SWA), Marisol and Rob Thomas, have joined forces with Global Lyme Alliance (GLA) to share the importance of protecting your entire family from Lyme and other tick-borne diseases. We are all at risk of Lyme disease, regardless of how many legs or how much fur we have. Through this partnership SWA and GLA look to raise awareness about the real and every day risk of contracting Lyme disease and promote tick bite prevention measures for all members of your family.
Elements of the partnership include an awareness campaign, including public service announcement ads (PSAs) to appear in select Conde Nast publications, online and social media. The partnership also marks the creation of an awareness and fundraising page at spot.fund/aware. Funds raised will be equally divided between SWA and GLA to support Lyme awareness and education programs for pets and people.
Our partnership with Global Lyme Alliance is deeply personal to me and Rob," says Marisol Thomas, co-founder of SWA. "Our goal is to help as many people, and pets, as possible prevent a tick bite and its often-unbearable consequences. Please support our mission."
Marisol's personal experience with tick-borne illness and her passion for helping and protecting pets is the driving force behind this partnership. Marisol shared some of her personal journey at GLA's 3 rd annual NYC Gala, "Lyme has quite literally stolen my life. There isn't a day or even a moment when I'm not in pain." Quite simply, she wants to help others, both people and pets, who may be experiencing Lyme's debilitating symptoms and prevent new cases through prevention and awareness. Cases of Lyme disease continue to skyrocket. For people, cases have doubled over the last 10 years; for dogs, it's doubled over the last five years.
A single tick-bite can be debilitating, and in rare cases, even cause death. With no accurate diagnostic test and no proven treatment, tick bite prevention is critical. It's crucial we take steps to protect both ourselves and our pets. "We're honored to work with Marisol and Rob to help bring more attention to this insidious disease and provide information to help protect all family members," said Scott Santarella, CEO of Global Lyme Alliance. "Marisol and Rob's work through SWA exemplifies their compassion and commitment to fighting for those battling injustice." To learn more about Lyme and tick-borne disease prevention and symptoms, go to GLA.org/SWA.
### ABOUT SIDEWALK ANGELS FOUNDATION
Sidewalk Angels Foundation is dedicated to providing critically needed funds and support to over 20 no-kill animal shelters and animal rescues, across the country, that help to fight for the rights and fair treatment of those with no voice. The foundation also works with homeless shelters that provide for the displaced by meeting the physical needs of people and their pets in crisis; so that families in need are not forced to give up their pets. Learn more at sidewalkangelsfoundation.org
### ABOUT GLOBAL LYME ALLIANCE
Global Lyme Alliance is the leading 501(c)(3) organization dedicated to conquering Lyme and other tick-borne diseases through research, education and awareness. GLA has gained national prominence for funding some of the most urgent and promising research in the field, while expanding education and awareness programs for the general public and physicians. We support those around the globe in need of information about tick-borne diseases. Learn more at GLA.org.