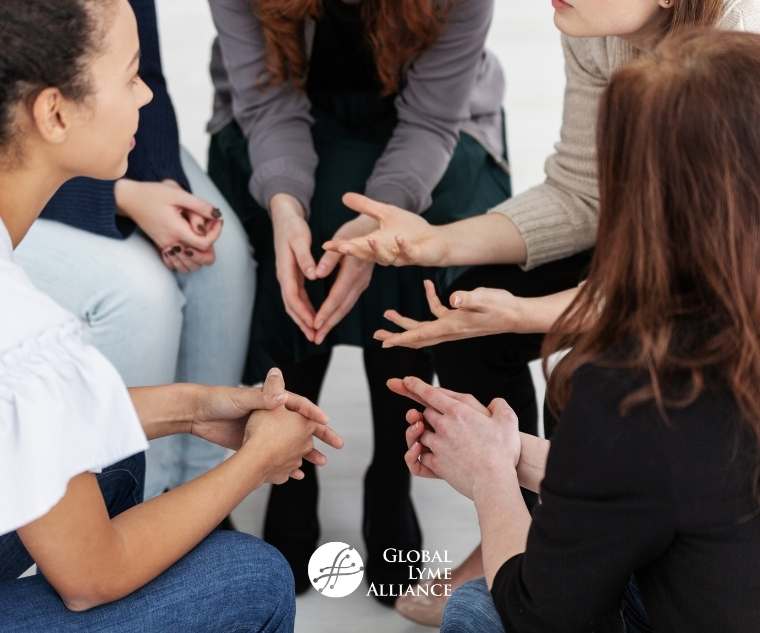 Silène, Leo, and Nicole share their stories and talk about why we need to fund research for Lyme and other co-infections.
"...We need more. More awareness, research, treatments, support and community..."
Silène Calls For Bartonella Research and Funds
Lyme patient Silène Dewaest calls for Bartonella funding and research. She's been battling chronic Lyme, several co-infections, candida, and toxoplasmosis. She has many symptoms, some of which are pain, neurological issues, fatigue, and migraines. She says, "But if it had to be one co-infection to be chosen for funding, it should definitely be Bartonella because it's one of the most difficult to treat and it involves many complications that are similar to those of Borreliosis."

Leo's Story
Leo Poggie lives in Montclair New Jersey. He was diagnosed with Lyme disease, Bartonella, Babesia, and Epstein-Barr Virus. His symptoms include chronic joint pain, headaches, insomnia and depression just to name a few. He says, "It is so important for organizations like GLA to fund research for better treatments for Bartonella because there are so many people around the world suffering like me."
Nicole's Story
Lyme disease changed Nicole Lauren's ENTIRE world. Thirteen years ago, she developed bullseye rash from a tick. She saw four doctors who told her it was nothing to worry about. Just a year ago, she suffered from a traumatic brain injury and her dormant Lyme came out. She went to every specialist and hospital in the state for them all to say nothing was wrong with her and that she should probably get a psych evaluation. They told her it was all in her head. She finally found a doctor, who within five minutes of talking to her, knew she had Lyme. When she finally made it to this doctor, she was losing her eyesight by the day. She dealt with light sensitivity, pressure in her ears and in her brain. She was unable to turn her neck due to the inflammation. Her gut shut down, and she was down to juicing because her body couldn't digest food. She couldn't walk on her own, felt stabbing numb face pain, and lost 20 pounds in two weeks. She was emotionally falling apart with anxiety, depression, and insomnia. She tested positive for Lyme, parasites, Epstein Bar, and other viruses. She is still trying to find the Bartonella which her Doctor is confident she has as well as other co-infections. Her pain is getting a little better and most of all she has hope!
She's thankful for organizations like GLA because "we need more. More awareness, research, treatments, support and community. We all need a voice when we are too sick to have our own." Her doctor believes she has Bartonella but the tests keep coming back negative. She believes "This infection needs advancements, and that's why it's so important to continue research and implement change."
Learn about GLA's latest fundraising campaign for The Bartonella Discovery Program
Many who have Lyme disease also suffer from a co-infection known as Bartonellosis.
Bartonellosis is a vector-borne infectious disease that is increasing in prevalence, and just like Lyme disease, many go undiagnosed because of a lack of awareness.
Symptoms of Bartonella can be severe and affect the brain, eyes, heart, and other organs. In addition to flu-like symptoms, Bartonella can cause encephalitis (causing seizures and coma), depression, anxiety, and OCD, among others.
Like Lyme disease, current antibiotic therapy for complicated Bartonella infection does not eradicate the disease, and patients still suffer. This is why GLA is fundraising for The Bartonella Discovery Program.
The Bartonella Discovery Program is a project designed to help achieve the following:
To identify how Bartonella species interact with a patient's immune cells, and how the intracellular, extracellular and biofilm lifestyles of Bartonella influence antibiotic susceptibility

To lay the foundation for drug discovery efforts to find antibiotic options that are more effective in killing and clearing these bacteria from patients

To use cutting edge tools to look for the bacteria in kids and young adults who suffer from an acute neuropsychological condition called PANS, and in older adults with dementia.
"The importance of this study cannot be overstated because of the severe neuroinflammation and neuropsychiatric disorders some patients can suffer when infected with Bartonella bacteria," says GLA's Chief Scientific Officer Tim Sellati, PhD.
The U.S.-focused study is multinational and multi-site at premier academic institutions using top Bartonella and biofilm experts. This could tremendously impact patients who suffer from chronic disease that has been difficult to diagnose. Learn more and donate below.
The above material is provided for information purposes only. The material (a) is not nor should be considered, or used as a substitute for, medical advice, diagnosis, or treatment, nor (b) does it necessarily represent endorsement by or an official position of Global Lyme Alliance, Inc. or any of its directors, officers, advisors or volunteers. Advice on the testing, treatment or care of an individual patient should be obtained through consultation with a physician who has examined that patient or is familiar with that patient's medical history.