This blog post is part of our People to Highlight Series during our 2020 Year-End Appeal. Each week we'll be spotlighting a GLA community member who has helped to advance our mission. To support GLA during our year-end appeal,

donate here
.
by Samantha Sloves
In the beginning, I was diagnosed with just about everything in the book. Every and anything you can think of. Unlike many, I actually tested positive for Lyme disease, babesia, bartonella, and Rocky Mountain spotted fever. My pediatrician later referred me to an infectious disease doctor. I had never had a worse appointment in my life. The doctor was dismissive and rude. It was GLA who referred me to a Lyme-literate doctor who helped me develop a treatment plan.
I went from holding the walls for stability to needing a walker, to eventually needing a wheelchair.
Samantha's Lyme disease symptoms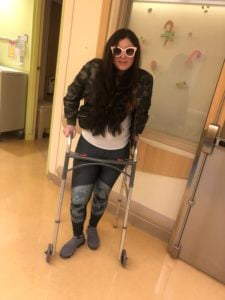 My very first symptom was hives. I was horribly itchy. By the end of the first week, I had developed eye sensitivity and migraines. Whenever the lights were on in a room, I had to put on sunglasses. I also developed brain fog. I became perplexed and constantly felt like whatever I was trying to say was at the "tip of my tongue." I had never been forgetful, so I immediately became incredibly self-conscious. My school bag seemed to get heavier daily, although I took out more from it every night. I slowly developed body aches and joint pain. My knees started buckling, and I progressively got weaker. I went from holding the walls for stability to needing a walker, to eventually needing a wheelchair.
Lyme disease took away all normalcy
Lyme disease, co-infections, and all the complications I got from tick-borne illnesses took away all normalcy—in every and any aspect of my life. No school. No dating. No socialization. No walking. No freedom. No independence. The only thing I did have control over was my attitude. Not being able to do something for so long made me want to be overly independent when it was over. It took the innocence out of me. I feel like a stranger going through the motions of my own life all the time.
It's crazy what your body is capable of and how much it can change so quickly. I used to do Soul Cycle all the time, and at one point, I needed help getting on and off the toilet. During some of the most challenging moments of my life, I was out of breath going up and down the stairs, needing tremendous help to stand up.
How I found Global Lyme Alliance
I was searching for a Lyme-literate doctor, and GLA's website came up. I used their website to find a doctor near me, and I ended up going to two specialists that were instrumental to my treatment. When I told my parents that I had been going on Global Lyme Alliance's website, we realized that Staci Grodin, one of GLA's board members, is my neighbor's aunt.
GLA has helped me feel a sense of community. After going to so many doctors who didn't understand my symptoms and didn't try to understand my symptoms, GLA was the resource for finding the Lyme-literate doctors who could help me. After finding GLA, I felt a sense of relief knowing that other people were going through the same thing, and there would be doctors who understood me.
Giving Back to GLA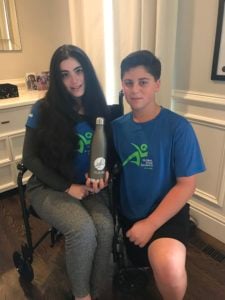 I promote GLA's mission in any way I can. From hosting events at local boutiques and donating a portion of the proceeds to GLA. I've sold "Sammy Strong" bracelets at local shops, made by my friend, and raised about $10,000 for GLA. We've also raised an additional $3,000 by selling the bracelets at my brother's Bar Mitzvah!
It's crazy how the tables have turned. Now I have become a "mentor" and go-to person for other people going through Lyme disease and other chronic illnesses. I've used my blog as a platform for sharing my story and helping others.
Where I am Today
I have more good days than bad, and I am functioning. That is the good news. The bad news is that there is no magic pill or cure that I can tell you about that got me to where I am today. The medicine that got me here is my motivation, yes I know that's cheesy but it's true. My main goal from the moment I wasn't feeling well in 8th grade was to graduate middle school on time. I had no idea that I would be ill all through high school, and my goal would change to graduate high school on time and attend my prom.
My piece of advice that I will leave you with is this: If you want to do something, go and make it happen, NO EXCUSES. My experience has shown me that you can do anything you put your mind to. Multiple doctors, teachers, and advisors said that I would not graduate on time, walk at graduation; some even said I would never walk again. Not only am I walking, but I also walked at my graduation, graduated on time with honors, and went to college. I did not let this illness define me or come between my education and my future. Do not let your illness define you, and make sure you keep striving towards your goals.
---
As you may know, GLA is solely funded by donor support. Due to COVID-19, we have been unable to hold our usual fundraising events. Please donate below if you'd like to support GLA, our programs, and our mission.