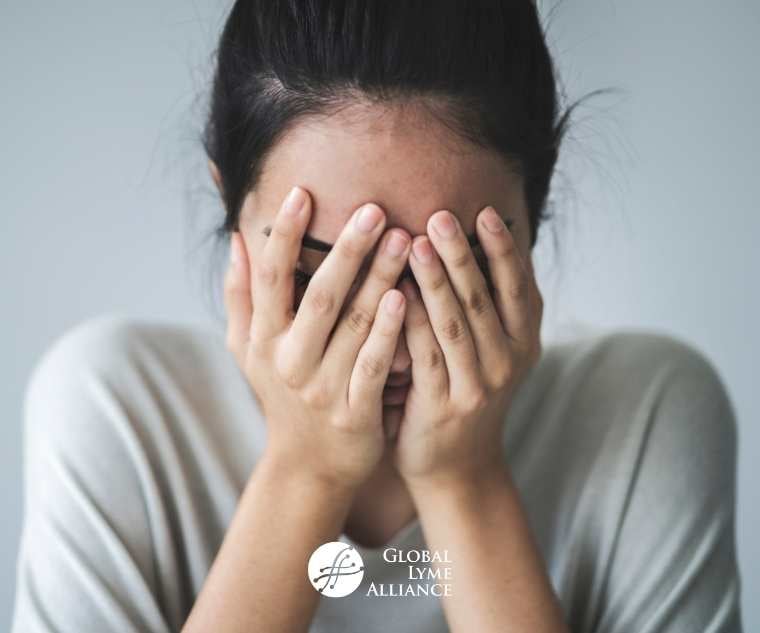 Tick-borne illnesses can not only exacerbate underlying anxiety, but also cause it.
I have always been an anxious person. My mother says that as a child, I looked carefully around any new environment, not relaxing until I had a lay of the land. Whether due to nature, nurture, or a combination of both, low-level of anxiety has followed me through life. I like to have all my ducks in a row.
But when I got sick with tick-borne illnesses Lyme disease, babesiosis, ehrlichiosis, and possible bartonella, my anxiety took on new form. I first wrestled with symptoms of tick-borne illness during my sophomore year of college. Freshman year had been a blast. Like most college students, I didn't eat or sleep well, but my body was healthy and strong. I don't remember worrying about much beyond studying for a test. One summer and one tick bite later, I felt like a different person. The start of sophomore year was plagued by fever, exhaustion, headaches, low blood sugar reactions, and anxiety like I'd never experienced. For the first time in my life, I had panic attacks. I'd be lying in bed, or studying in the library, and suddenly my heart would race and I'd hyperventilate.
Looking back, I can see that there were multiple roots to this new level of anxiety. I was sick, and couldn't keep up with my peers academically or socially. I was nervous about getting behind in classes. I was ashamed, and nervous, about weight gain caused by hypoglycemia and my sudden inability to exercise. When friends went out for the night while I crawled into bed at 9:00 p.m., I feared being left out, before "FOMO" was even a term.
Most of all, I worried about what was wrong with me, and when or if I would get better. My blood work looked fine, though no one had thought to test me for Lyme or other tick-borne illnesses, and I hadn't thought to ask, even though I'd spent the summer in the backwoods of Maine and had found a blotchy red rash on my arm. Tick-borne diseases were not on my radar or the radar of college health center nurses. They gave me a paper bag to breathe into when I felt a panic attack coming on and suggested I see someone in counseling. Surely therapy would have helped with my anxiety, but the nurses also seemed to be writing off my fevers and exhaustion as psychosomatic. This, of course, only made my anxiety worse.
Tick-borne illness can not only exacerbate underlying anxiety, but cause it. My fears were grounded in tangible stressors, but my panic was also the result of a physical illness impacting my nervous system. In his book How Can I Get Better? An Action Plan for Treating Resistant Lyme & Chronic Disease, Richard Horowitz, MD says, "The vast majority of my patients have acute and chronic anxiety…I have seen many cases where anxiety levels are as high as those experiencing post-traumatic stress disorder (PTSD). Some of it is due to simply dealing with their physical symptoms. Other times I notice they are anxious to get better and are continually worrying about their health status, which in turn makes them more anxious, and Lyme and co-infections exacerbate underlying anxiety issues. Jarisch-Herxheimer reactions are also known to cause anxiety as well as lack of sleep, which can increase anxiety."[i]
Once the Lyme bacteria crosses the blood-brain barrier, it can cause nervous system inflammation, which can manifest in a number of ways, including anxiety. In his book Lyme Disease: Medical Myopia and the Hidden Global Pandemic, psychiatrist Bernard Raxlen, MD lists common psychiatric manifestations of Lyme disease, including "OCD [Obsessive Compulsive Disorder], instability, rage response, panic attack, and even bipolar episodes or frank psychotic symptoms."[ii] When I relapsed a few years into my Lyme disease journey, my neurological symptoms were worse than ever. I could not stop weeping and going over and over and over what I could have done differently to avoid relapse. "We need to stop this perseverating," my doctor said, writing a prescription for an anti-anxiety medication that would help with this type of OCD. Within days of starting it, my anxiety, and my obsession, improved.
There are many tools that Lyme patients can use to help anxiety. Psychiatric medications may be appropriate, as well as talk therapy and cognitive behavioral therapy. "Physicians should make the effort to acknowledge patient trauma, and perhaps even work alongside a practicing psychiatrist or physiologist through the end of the diagnosis phase and into the treatment phase in an effort to support full patient healing,"ii Dr. Raxlen writes. Relaxation techniques such as deep breathing and meditation are useful for some patients. Neurofeedback is helpful for others. Some do cranial sacral massage. For me, a combination of these therapies has supported the most critical tool of all: treatment of the infections in my brain.
These days my anxiety is manageable. When I start to head into patterns of obsessive thinking or excessive worry, I stop and ask myself, "Could my Lyme or babesiosis be flaring?" Sometimes they are, and I need a round of treatment. Sometimes they're not, and I need to reduce stressors in my life. Always, I need to be gentle and kind to myself.
[i] Horowitz, Richard, MD. How Can I Get Better? An Action Plan for Treating Resistant Lyme & Chronic Disease. New York: St. Martin's Press, 2017 (279)
[ii] Raxlen, Bernard, MD with Cashel, Allie. Lyme Disease: Medical Myopia and the Hidden Global Pandemic. London: Hammersmith Health Books, 2019 (121, 120).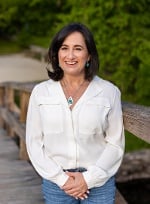 Writer
Opinions expressed by contributors are their own. Jennifer Crystal is a writer and educator in Boston. Her work has appeared in local and national publications including Harvard Health Publishing and The Boston Globe. As a GLA columnist for over six years, her work on GLA.org has received mention in publications such as The New Yorker, weatherchannel.com, CQ Researcher, and ProHealth.com. Jennifer is a patient advocate who has dealt with chronic illness, including Lyme and other tick-borne infections. Her memoir, One Tick Stopped the Clock, is forthcoming from Legacy Book Press in September 2024. Ten percent of proceeds from the book will go to Global Lyme Alliance. Contact her via email below.