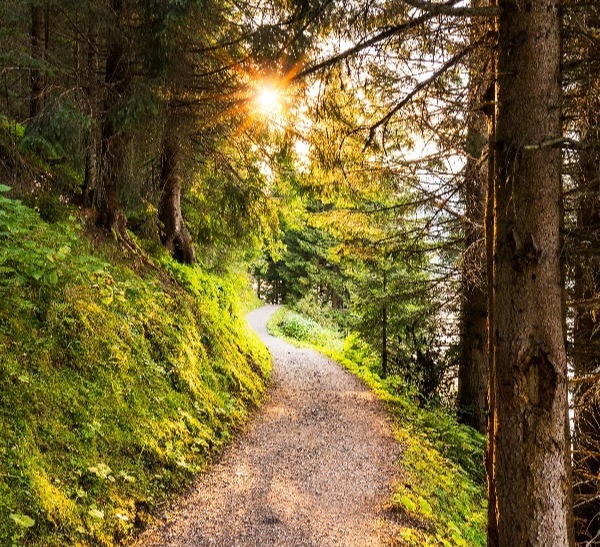 ADAPT. ADVANCE. ACHIEVE.
THREE YEAR REPORT (2020-2022)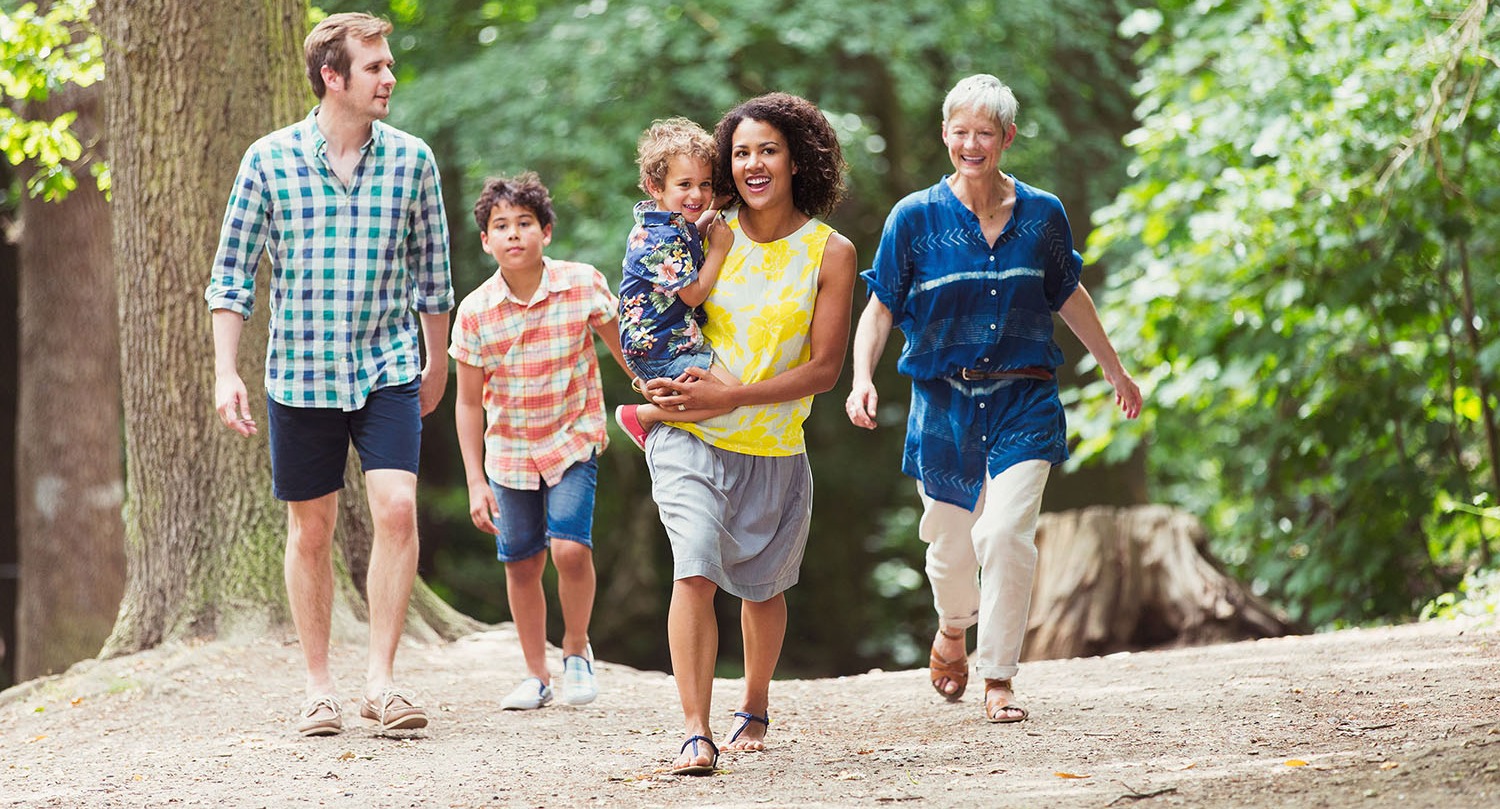 "WE PLEDGED TO PROVIDE ANSWERS AND SOLUTIONS TO THOSE SUFFERING FROM THIS DEBILITATING ILLNESS, AND THROUGH THE YEARS, WE HAVE PERSEVERED THROUGH EVERY CHALLENGE THAT CAME OUR WAY.

"
A LETTER FROM OUR CEO
Seven years ago, the Lyme Research Alliance and the Tick-Borne Disease Alliance merged to form the Global Lyme Alliance (GLA) with a common goal − to put an end to the Lyme disease crisis. We pledged to provide answers and solutions to those suffering from this debilitating illness, and through the years, we have persevered through every challenge that came our way.
2020 taught us a valuable lesson − nothing can break our spirit, not even a pandemic. As we move forward through 2023, we are grateful for the unwavering support of our community of donors, board members, and volunteers who have stood by us through thick and thin.
Looking back at the last three years, we are encouraged by the progress we have made. We are grateful to have you at our side. Every day brings us one step closer to achieving our ultimate goal − discovering a cure for Lyme and other tick-borne illnesses. Thank you for your ongoing support.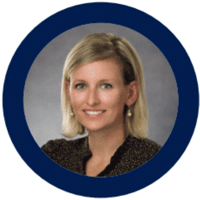 Laura MacNeill | Chief Executive Officer
A LETTER FROM OUR CHAIRMAN
In 2004, I was diagnosed with Lyme disease after a long and frustrating journey of seeing 25 doctors and receiving no answers. It took 18 years to finally feel well again, but in recent years, I've had more good days than bad. I understand that many of you reading this may have similar experiences, where the facts differ but the struggle remains the same.
After falling ill, I made a commitment to do everything in my power to help fellow Lyme patients and speed up the development of new treatments. That's how I discovered GLA, a nonprofit organization that not only uses its donations responsibly and effectively to serve patients, but is also dedicated to transforming the way Lyme disease is treated and cared for. Ever since, I've been actively fundraising and volunteering for GLA, first as a board member, then as interim CEO, and now as Chairman of the Board. I truly believe that there's no better use of our time and talents than helping others.
Your support can make a lifesaving and life-changing difference. By generously contributing to GLA, you are helping to secure a future of hope and healing for all Lyme and tick-borne disease patients, as well as their loved ones and caregivers. Thank you for standing with us and making a difference.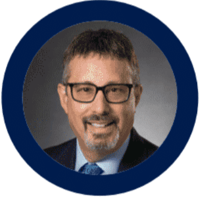 Paul Ross | Chairman of the Board
ABOUT GLA
OUR MISSION:
Cure Lyme and other tick-borne diseases through innovative research, awareness, and empowering the patient voice.
OUR VISION:
A world free of Lyme and other tick-borne diseases.
"GLA PLAYS A CRITICAL ROLE IN LYME DISEASE RESEARCH. THEY'RE THINKING OUTSIDE OF THE BOX. THEY'RE LOOKING FOR INNOVATION, FOR CREATIVITY. THEY'RE FUNDING SCIENTISTS ASKING THE CRITICAL QUESTIONS - AND THIS IS THE ONLY WAY OF FINDING THE BIG PRIZE - THE CURE.

"
Benjamin Luft, M.D.
Benjamin Luft, M.D., Director and Principal Investigator, Stony Brook University WTC Wellness Program. Dr. Luft is an internationally recognized expert in the treatment of Lyme disease and AIDS-related conditions. The use of ceftriaxone for the treatment of neuroboreliosis is based upon Dr. Luft's groundbreaking work. He's a previous GLA grantee.
WHY WE ARE FIGHTING SO HARD
ESCALATING INCIDENCE
There are 476,000 new cases of Lyme each year in the U.S. alone. Combine this fact with the escalating number of reported cases worldwide and the result is a global epidemic.
Research indicates that the tick population has exploded in number and geographic distribution over the last 15 years, and a greater proportion of deer ticks are infected with Borrelia burgdorferi, the Lyme disease bacterium. Due to warmer winters, many ticks are active year-round instead of seasonally.
WHY THE PROBLEM IS WORSENING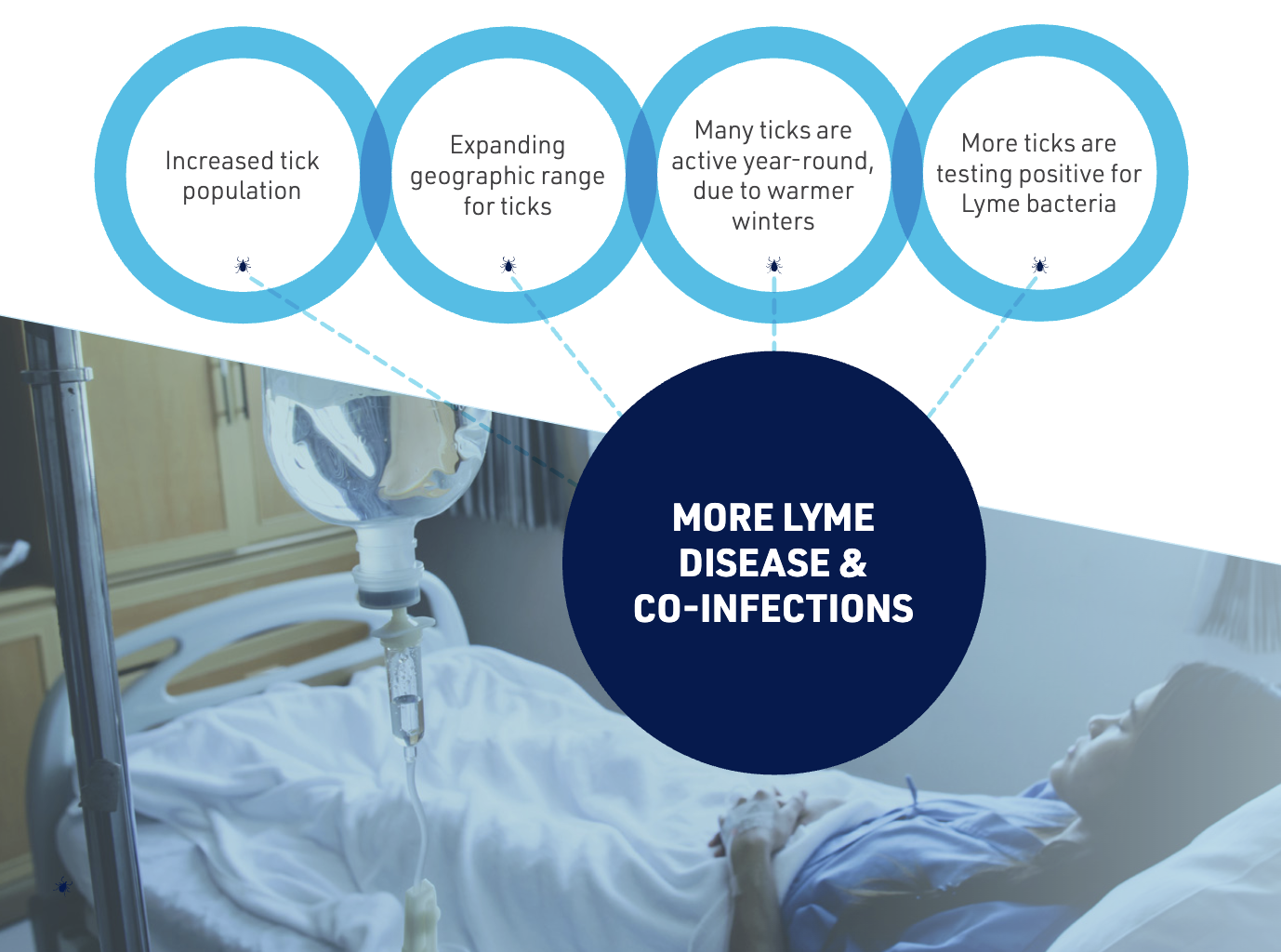 INCIDENCE OF CO-INFECTION
Tick-borne co-infections which cause babesiosis, anaplasmosis, ehrlichiosis, and Rocky Mountain spotted fever are increasingly being reported. As an example, studies suggest that as many as 20% of Lyme patients experience concurrent babesiosis.
LIMITED GOVERNMENT SUPPORT
Despite the pressing need, Lyme disease research is seriously underfunded at the government level. There are millions of people with chronic Lyme, but the NIH hasn't funded a large treatment study for more than 15 years. In recent years less than 1% of the NIH Lyme budget has been spent on treatment studies.
PERSISTENCE
Based on GLA-funded research, it's estimated that 10-20% of acute Lyme disease cases are not cured by antibiotic treatment. This statistic is now used by mainstream medicine and is the direct result of GLA-funded research at Johns Hopkins.
INJUSTICE
Lyme patients today face an incredible injustice from the medical community, insurance companies, and their peers. Until an accurate early diagnostic test and standard of care for chronic patients is established and accepted by the medi-
cal community, this will continue.
DELAYED TREATMENT
The longer a patient goes without treatment of their Lyme or other tick-borne infection, the worse the symptoms may become. For some patients, symptoms become life-threatening. An early, accurate diagnostic test and improved understanding of tick-borne infections will help patients get more timely and effective treatment.
INCIDENCE AMONG CHILDREN
Children are most at risk. The highest incidence of Lyme disease occurs in children ages 3 to 14. While most children recover from the disease, today's treatments are limited beyond the standard course of antibiotics which are not effective for about 3 out of every 10 patients.
STIGMA
Many Lyme patients with persistent symptoms are dismissed by the medical community as hypochondriacs or malingerers, when in fact their symptoms are very real. Patients are also often ostracized by friends and family because they sometimes appear healthy on the outside despite being sick on the inside.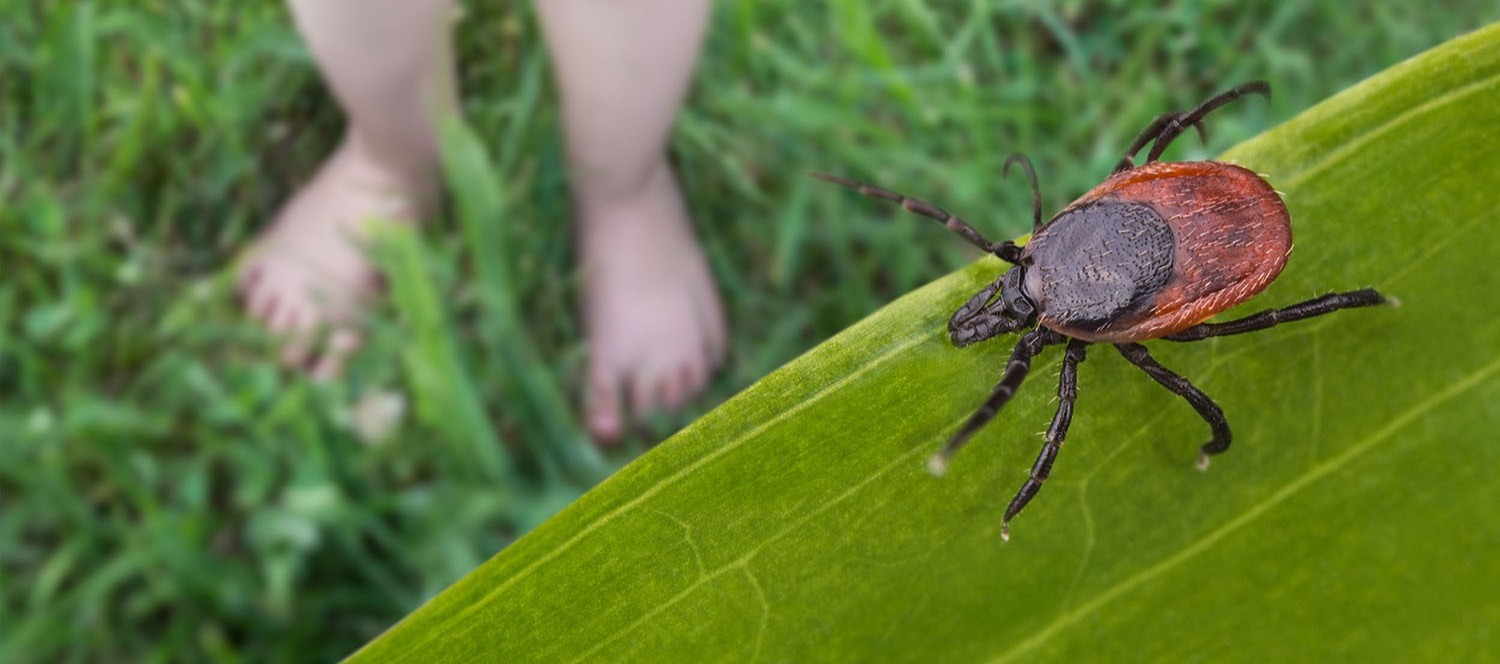 HOW WE'VE MADE IT THROUGH
In 2020, the fear of contracting COVID-19 was at an all-time high across the United States. However, few populations know this fear more intimately than those suffering from weakened immune systems and diseases like Lyme. For Lyme patients, the uncertainty of diagnosis, fear of failed treatment, and isolation are all too familiar.

Nonprofit organizations faced unprecedented challenges in the last few years due to the inability to hold in-person fundraising events. Despite these obstacles, GLA persevered and created momentum in all aspects of our work. We are grateful for the continued support that has made our progress possible.

GLA's mission to cure Lyme and other tick-borne diseases through innovative research, awareness, and empowering the patient voice has never been more focused and resolute. This mission is even more crucial given the rapid rise of tick-borne illnesses worldwide.
ADVANCING RESEARCH THAT MATTERS
Research remains the key driver for GLA's mission as improved diagnostics
and sound treatment options have the greatest impact on patients. Today,
tick-borne disease research has reached a tipping point with advancements once thought impossible now within reach. GLA's scientific leadership team, Scientific Advisory Board, and newly established Medical Advisory Board are working tirelessly to make this vision a reality.

Thanks to the support of top-tier researchers and deepening scientific understanding of the Lyme bacterium, GLA's research team strategically undertook more projects in 2020-2022 that will directly impact patients. We continue to prioritize the "patient voice" in our methodologies to focus on research investments that will end suffering and shift the paradigm of treating Lyme disease from uncertainty, misunderstanding, and helplessness to clarity.
GLA's Lyme disease research grant funding drives the most significant scientific advancements in the field. Operating on the forefront of discovery and innovation, GLA is a catalyst for change in the field of Lyme and other tick-borne disease research. Basic research is key to driving diagnostic and treatment discoveries and eventually a cure by expanding our understanding of why tick-borne diseases are so devastating.
2020-2022 Research Funding Commitment by Type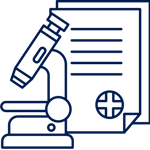 %
Basic Research (8)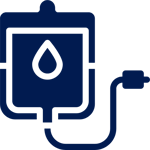 %
Clinical Studies & Treatment (7)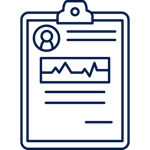 %
Fellowships (5)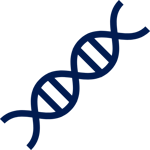 %
Diagnostics (7)
A GLA SUCCESS STORY
FROM SEED FUNDING TO HELPING PATIENTS
with Kim Lewis, Ph.D., Northeastern University
GLA is proud to have spearheaded the breakthrough discovery of hygromycin A, an antibiotic with the potential to prevent cases of post-treatment and chronic Lyme disease. The story of hygromycin A is one of innovation, resilience, and hope. In fact, the story is still being written, but let's start at the beginning.
WHAT SPURRED THE DISCOVERY OF HYGROMYCIN A, AND HOW DID GLA PLAY A PIVOTAL ROLE IN ITS UNEARTHING?
The road to the discovery of hygromycin A began over a decade ago when GLA funded Dr. Ying Zhang (then at Johns Hopkins University) to explore the possibility that the Lyme disease bacterium, Borrelia burgdorferi, could adopt a dormant form that survives exposure to antibiotics and that these "persister" spirochetes might cause chronic symptoms experienced by post-treatment Lyme disease (PTLD) patients. Indeed, Dr. Zhang's group found that B. burgdorferi could form persisters and, unlike live replicating spirochetes, they were unaffected by doxycycline.
To see if this provocative finding could be replicated, GLA then funded Kim Lewis, Ph.D., the Director of the Antimicrobial Discovery Center at Northeastern University. While a well-respected scientist working in antimicrobials and drug resistance, Dr. Lewis had not focused on Lyme disease prior to GLA's initial funding in 2013.
Dr. Lewis confirmed Dr. Zhang's findings that B. burgdorferi could form drug-tolerant persister forms. GLA then funded Dr. Lewis for three years to embark on a drug discovery quest to find new and existing compounds that would be effective against the Lyme bacterium in its growing and persister forms.
The ultimate result of this quest was the rediscovery of hygromycin A, a long-forgotten antibiotic that was originally discovered in 1953. It was dismissed as a general antibiotic candidate due to its poor effectiveness against a wide range of common bacterial threats. However in 2021, Dr. Lewis's lab reported in Cell, a very prestigious journal, that hygromycin A was exceptionally potent against B. burgdorferi.
In fact, the aspect of hygromycin A that originally led to its dismissal, its poor antimicrobial activity against most bacteria, is part of what makes it such a promising therapeutic for Lyme disease.
"THERE IS NO REASON TO TREAT A DISEASE THAT IS CAUSED BY A SINGLE PATHOGEN WITH BROAD-SPECTRUM ANTIBIOTICS THAT HARM THE MICROBIOME AND INVITE RESISTANCE DEVELOPMENT IN OFF-TARGET BACTERIA.

"
WHERE IS HYGROMYCIN A IN THE BENCH TO PATIENT PIPELINE?
It is a long, expensive, and complex process to take discoveries from the research bench to patients' bedsides. To give hygromycin A the best chance of success and reaching patients, Dr. Lewis licensed the compound to the biotechnology company Flightpath Biosciences, where he now sits on their scientific advisory board.
Flightpath is currently working on finishing preclinical studies, which involve making sure hygromycin A is safe in animals. They have also completed studies where they ensured that they can successfully scale up production to make large quantities of hygromycin A. Additionally, they are engaging with the Food and Drug Administration (FDA) about beginning a Phase I clinical study with hygromycin A. This will be the first time hygromycin A has been tested in humans, and so this study will determine the safety of the drug, often by testing several dosages, in healthy volunteers who do not have Lyme disease. Usually in Phase I studies, they aim to recruit 20-100 healthy volunteers, and the study can take six to nine months depending on how many volunteers they enroll. Flightpath hopes to begin recruiting for Phase I by the end of 2023 or early 2024.
If successful, they will move to Phase II where they will study if hygromycin A is effective at treating Lyme disease in people. This phase involves recruiting more participants and can take 18-24 months to complete. If all goes well, the drug will move to Phase III, which will compare how well hygromycin A works in comparison to a conventional antibiotic for Lyme disease. This will be an even larger group of patients (300-3,000) and may take a similar amount of time as Phase II. In order to receive FDA approval, hygromycin A must go through all three of these phases, which may not end until sometime in 2028. While this may sound glacially slow, this extensive approval process is necessary to ensure hygromycin A will be effective and safe to give to Lyme disease patients.
Overall, we are moving in the right direction, and GLA is proud to be investing in Flightpath Biosciences. They will usher hygromycin A along the commercialization path, through clinical trials, FDA approval, and ultimately into the hands of physicians.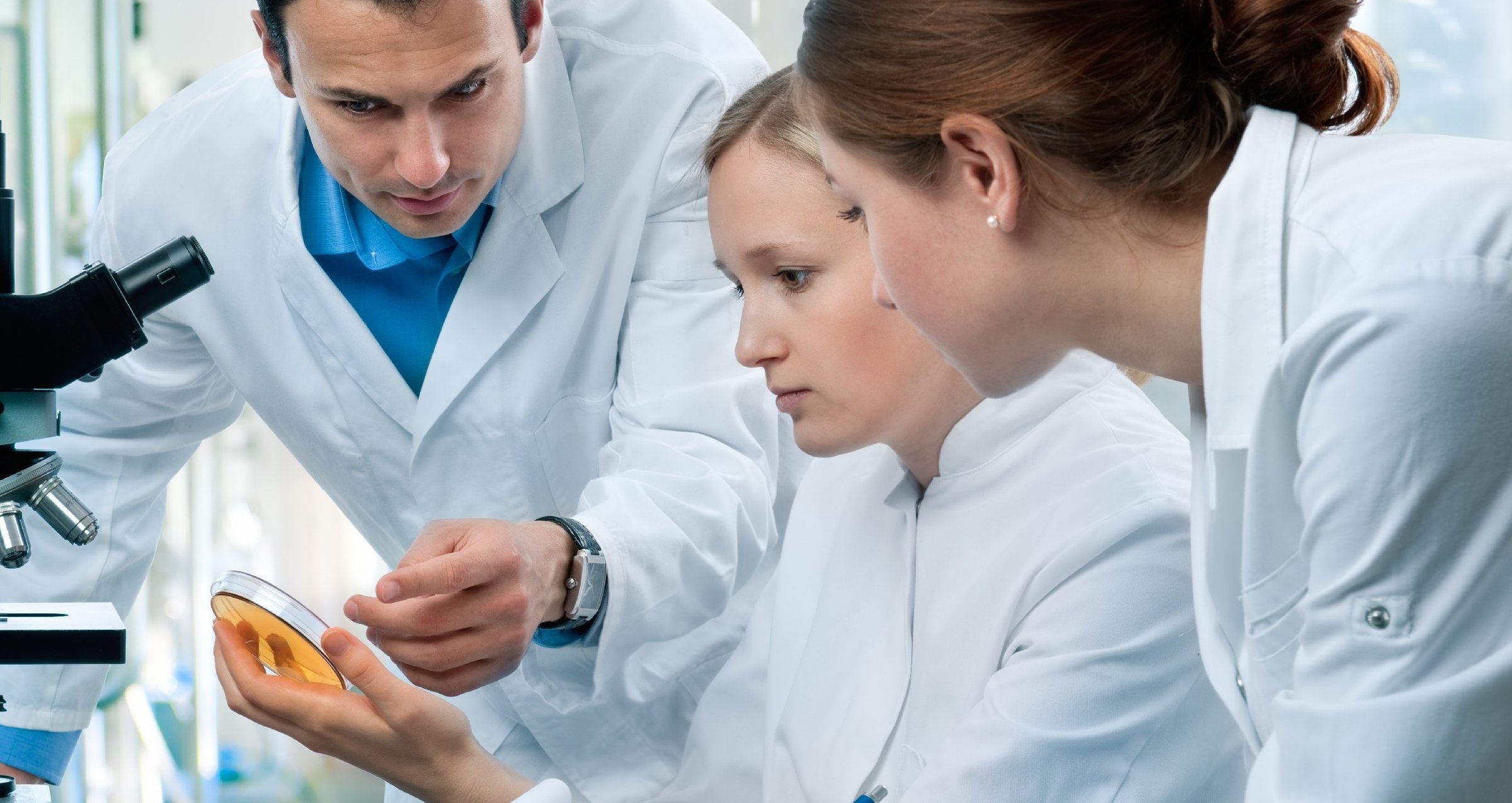 "OUR TEAM BELIEVES IT IS CRITICAL TO ADVANCE ALTERNATIVE, NARROW-SPECTRUM ANTIMICROBIAL DRUGS TO TREAT SPECIFIC INFECTIONS WITHOUT TRIGGERING UNNECESSARY ADDITIONAL HEALTH PROBLEMS FOR PATIENTS.

"
Matt Tindall, Flightpath's CEO
A GLA SUCCESS STORY
TRANSFORMING THE FIELD OF PEDIATRIC LYME DISEASE
FOCUSING ON OUR MOST VULNERABLE LYME PATIENT POPULATION
The CDC estimates that 476,000 persons are diagnosed with Lyme disease in the United States every year, and children are disproportionately affected. However, it is widely accepted that current diagnostic tests have serious limitations, including an inability to capture all early Lyme disease cases. Considering the time spent outdoors playing, children are prime targets for tick bites. Infections can be quite devastating during the early stages of a child's physical and mental development. Quickly and accurately diagnosing Lyme disease in children is incredibly important, but research focused on children is grossly underfunded. Since pediatric Lyme disease may not be the same as in adults, it is important to make sure that diagnostic test development does not exclude children, who are the most vulnerable population. Global Lyme Alliance has been funding the work of Lise Nigrovic, M.D., MPH, one of the few researchers examining how to assess and improve diagnosis and treatment of Lyme disease in children.
WHAT IS THE PEDI LYME NET AND ITS ASSOCIATED BIOBANK?
Dr. Nigrovic founded a pediatric emergency department Lyme disease network, Pedi Lyme Net, in 2015 to enroll children in studies and advance Lyme disease diagnostic test development and treatment. Initially, Pedi Lyme Net was a network of three different emergency departments, but with financial support from GLA it has grown to include eight different enrollment locations.
When children with suspected Lyme disease or other tick-borne diseases enter this network of emergency departments, they can enroll in Dr. Nigrovic's studies. Once enrolled, blood and other biospecimens will be collected and stored in the Pedi Lyme Network's associated Pediatric Lyme Disease Biobank.

To date, Dr. Nigrovic and her colleagues have enrolled over 4,000 children from whom they have collected biosamples. They acquire an average of 700 new samples annually. The Pediatric Lyme Disease Biobank is an invaluable resource for researching Lyme disease diagnosis in children because it is the only pediatric Lyme biobank in existence.
MAKING STRIDES IN PEDIATRIC LYME DISEASE
GLA has been funding Dr. Nigrovic's Pedi Lyme Net since 2018 and she has published 17 peer-reviewed articles. These articles, which are widely read by the pediatric infectious disease community, have transformed the field and impacted how pediatric Lyme disease patients are diagnosed and treated in an emergency setting. The following are highlights from some of these publications:
A clinical prediction algorithm was shown to help doctors differentially diagnose children suffering from Lyme arthritis versus septic arthritis. The immediate positive impact of this study is that pediatric Lyme patients will be spared from the invasive and painful surgical joint procedure that children with septic arthritis must undergo.



Standard electrocardiograms proved to be an excellent screening tool to rapidly evaluate children with suspected Lyme carditis (heart inflammation).



The Pediatric Lyme Meningitis Symptom Score was developed to evaluate the effectiveness of different treatment regimens for children with Lyme meningitis (brain inflammation). Prior to this, there was no standard way to determine clinical improvement in children with Lyme meningitis.
COLLABORATION LEADS TO INNOVATION
Dr. Nigrovic has over 10 collaborations with highly regarded researchers across the country with whom she has generously shared these pediatric biosamples for their design of laboratory test prototypes. These researchers, many of whom were GLA-funded investigators or scientific advisory board members, include John Branda, M.D., at the Massachusetts General Hospital, Charles Chiu, M.D., Ph.D., at the University of California, San Francisco, and William Robinson, M.D., Ph.D., at Stanford University, to name a few. With the support of donors such as the Richard Saltonstall Charitable Foundation, GLA is proud to sponsor this critical work.
Without adequate governmental funding, organizations like GLA must step in to ensure that research, especially research focused on children, continues. Funding the Pediatric Lyme Disease Biobank curated by Dr. Lise Nigrovic at Boston Children's Hospital supports the Lyme research and physician community by making biospecimens available to promote further progress towards ending this silent epidemic.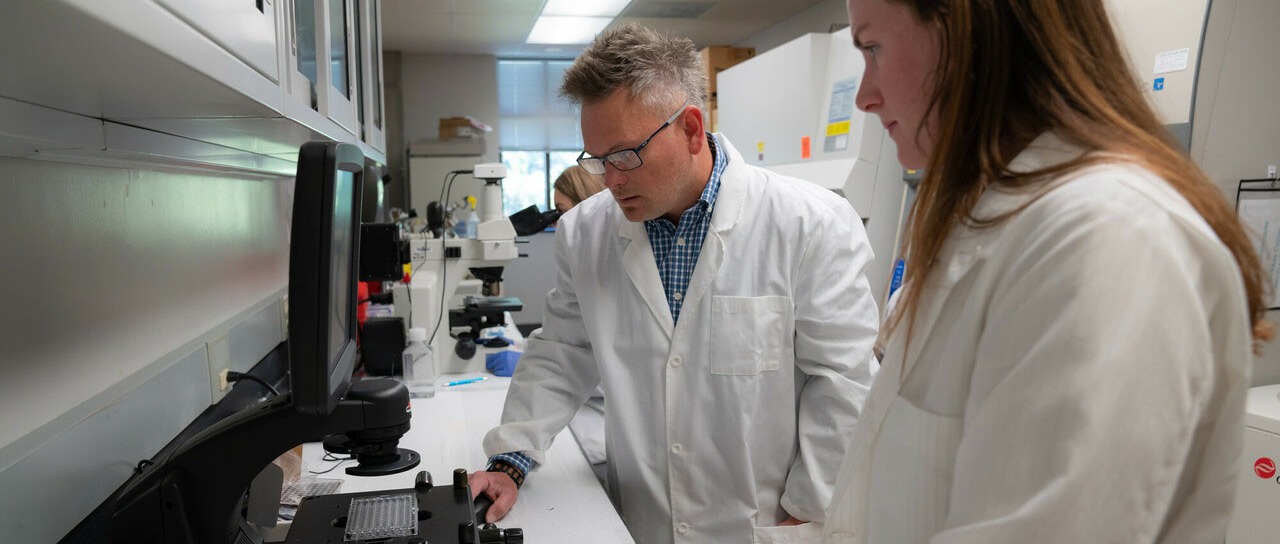 A UNIQUE LYME DISEASE BIOMARKER
A BREAKTHROUGH FOR BETTER TESTS AND NEW TREATMENTS
One way GLA keeps a finger on the pulse of the Lyme and tick-borne disease field is by attending scientific conferences. These research gatherings foster collaboration and sharing of cutting-edge data. GLA's science team was attending such a conference when Dr. Brandon Jutras (Virginia Tech) gave a talk about how he and his colleagues just discovered that the Lyme bacterium, Borrelia burgdorferi, has a unique biomarker, peptidoglycan. GLA saw the potential for this early-stage research to be developed into a much-needed direct diagnostic test as well as a therapeutic target and encouraged Dr. Jutras to apply for funding. Even in the midst of the COVID-19 pandemic, our donors never wavered in their support, and thanks to their passion and generosity, we were able to begin supporting Dr. Jutras' research in 2021.
Peptidoglycan is a part of bacterial cell walls and is shed while they grow. B. burgdorferi's peptidoglycan is chemically unique, making it different than all other bacterial peptidoglycan. Dr. Jutras' goal is to develop a direct diagnostic test that can identify this molecule within hours of infection and also look for fragments in patients with chronic symptoms. Such a test would launch us into the next era of Lyme disease diagnostics, driving us towards fulfilling our mission to improve diagnostic testing.
In addition to serving as a potential diagnostic biomarker, peptidoglycan may also serve as a therapeutic target. Dr. Jutras and his team hypothesize that during B. burgdorferi infection, released peptidoglycan fragments drive patient inflammation and may continue to do so after the infection has been treated. In fact, they have shown that Lyme bacterial peptidoglycan by itself can cause arthritis in mice. Therefore, they theorize that strategies to destroy the peptidoglycan may be of therapeutic benefit for those suffering from chronic Lyme disease. We are proud to be funding Dr. Jutras at the forefront of his promising research and look forward to future breakthroughs.
"This discovery will help researchers improve diagnostic tests and may lead to new treatment options for patients suffering with Lyme arthritis," said Jutras, the lead author on the study Breaking down the wall: Targeting peptidoglycan to treat and diagnose Lyme disease. "This is an important finding, and we think that it has major implications for many manifestations of Lyme disease, not just Lyme arthritis."
"THIS DISCOVERY WILL HELP RESEARCHERS IMPROVE DIAGNOSTIC TESTS AND MAY LEAD TO NEW TREATMENT OPTIONS FOR PATIENTS SUFFERING WITH LYME ARTHRITIS.

"
Dr. Brandon Jutras, Virginia Tech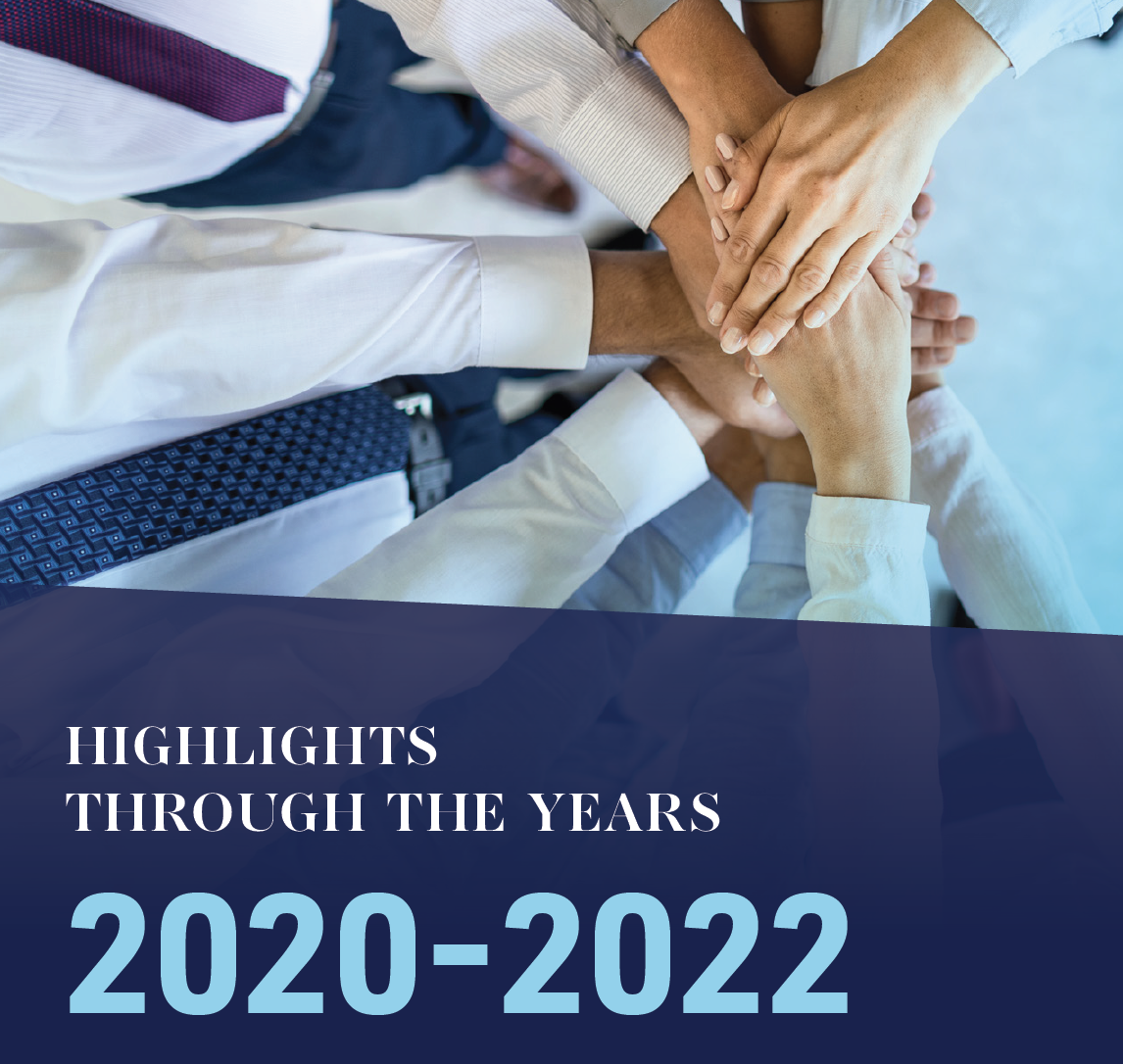 Over the span of three years, from 2020 to 2022, we have made significant strides in Lyme and tick-borne disease research by supporting 28 researchers and investing in the esteemed Flightpath program. Our commitment to enhancing treatment and care for children remains unwavering as we continue to invest in Pedi Lyme Net, a pediatric emergency department Lyme disease network that serves as a crucial resource for researching Lyme disease diagnosis in children.
In 2021, we paused to revamp and revitalize two of our vital programs — GLA's Ambassador and Peer-to-Peer Mentor Programs — to create a stronger, more connected community of changemakers. Through our multifaceted education and awareness programs, we have successfully raised awareness for Lyme patients, reaching millions of impressions through our online and social media efforts. We have continued to create compelling research and education content for our community and the public at large, while also hosting successful virtual fundraising events and forging new corporate partnerships.
Our mission to conquer Lyme and other tick-borne diseases through innovative research, awareness, and empowering the patient voice continues to drive us forward. Take a look at some of the highlights from 2020-2022.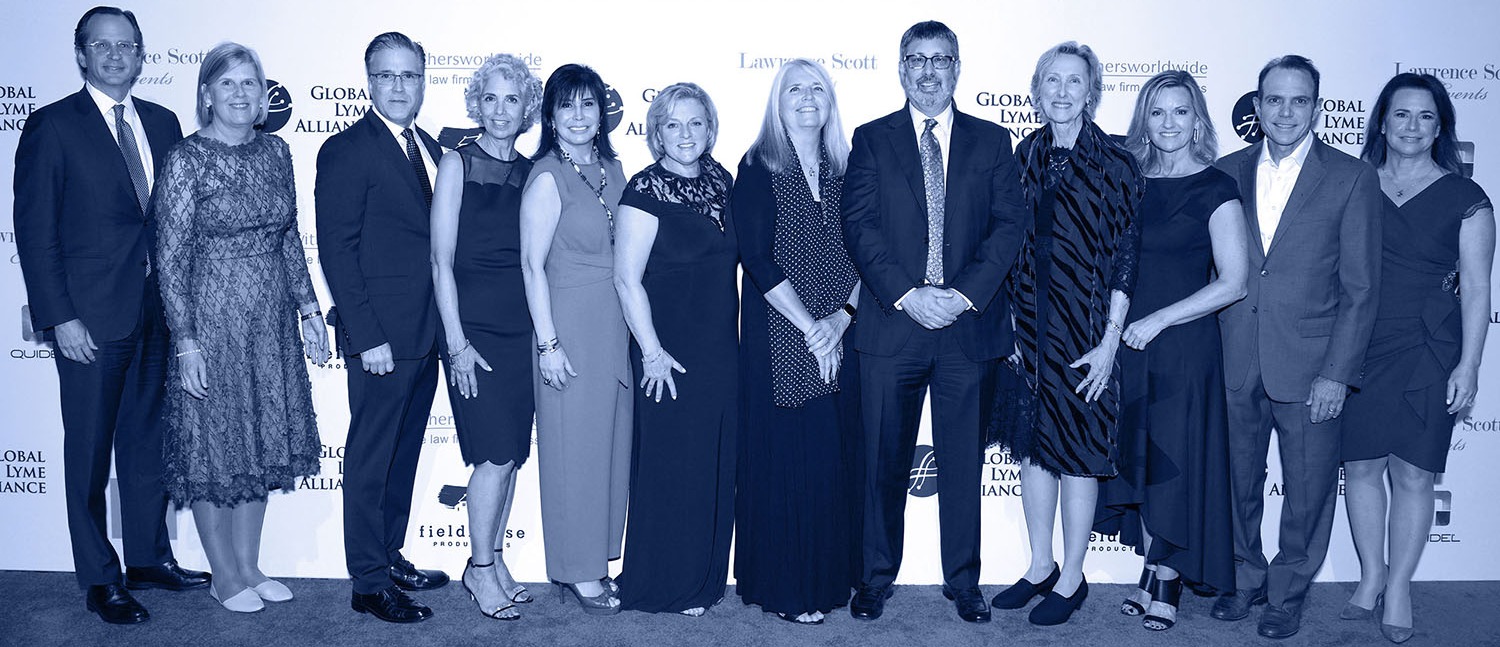 GLOBAL LYME ALLIANCE'S BOARD OF DIRECTORS IS COMPRISED OF DEDICATED INDIVIDUALS WHO CARE DEEPLY ABOUT THE MISSION OF DEVELOPING RELIABLE DIAGNOSTIC TESTS, EFFECTIVE TREATMENTS, AND ULTIMATELY A CURE FOR LYME AND OTHER TICK-BORNE DISEASES.
OUR LEADERSHIP
EXECUTIVE LEADERSHIP | LAURA MACNEILL CEO | TIMOTHY J. SELLATI PH.D. CHIEF SCIENTIFIC OFFICER
BOARD MEMBERS | PAUL ROSS CHAIRMAN, INTERIM CEO, DIRECTOR | ROBERT KOBRE CHAIRMAN EMERITUS | JANET VACCARO SECRETARY | HENRY DOSCH TREASURER | DEBORAH SICILIANO VICE CHAIR | DIANE BLANCHARD VICE CHAIR | CHARLES BALDUCCI VICE CHAIR | NANCY DEL GENIO DIRECTOR | ROSE ANASTASIO DIRECTOR | RIDGWAY BARKER DIRECTOR | JULIA KNOX-COMEAU DIRECTOR | CHRIS CORRINET DIRECTOR | DAVID GERSTNER DIRECTOR | EDWARD O'CONNELL DIRECTOR | KAREN KELLY DIRECTOR | BRETT KRISTOFF DIRECTOR | STEVE LEFKOWITZ DIRECTOR | LEWIS LEONE DIRECTOR | STEVEN MARTIN DIRECTOR | DANA MCAVITY DIRECTOR | LORRIE NADEL DIRECTOR | KAREN PEETZ DIRECTOR | DAVID NOLAN DIRECTOR | PETER NORLEY DIRECTOR | BRENT PATRY DIRECTOR | NORMA RUSSO DIRECTOR | AZIZ SYRIANI DIRECTOR | ALEXANDER TISCH DIRECTOR | ERIN WALKER DIRECTOR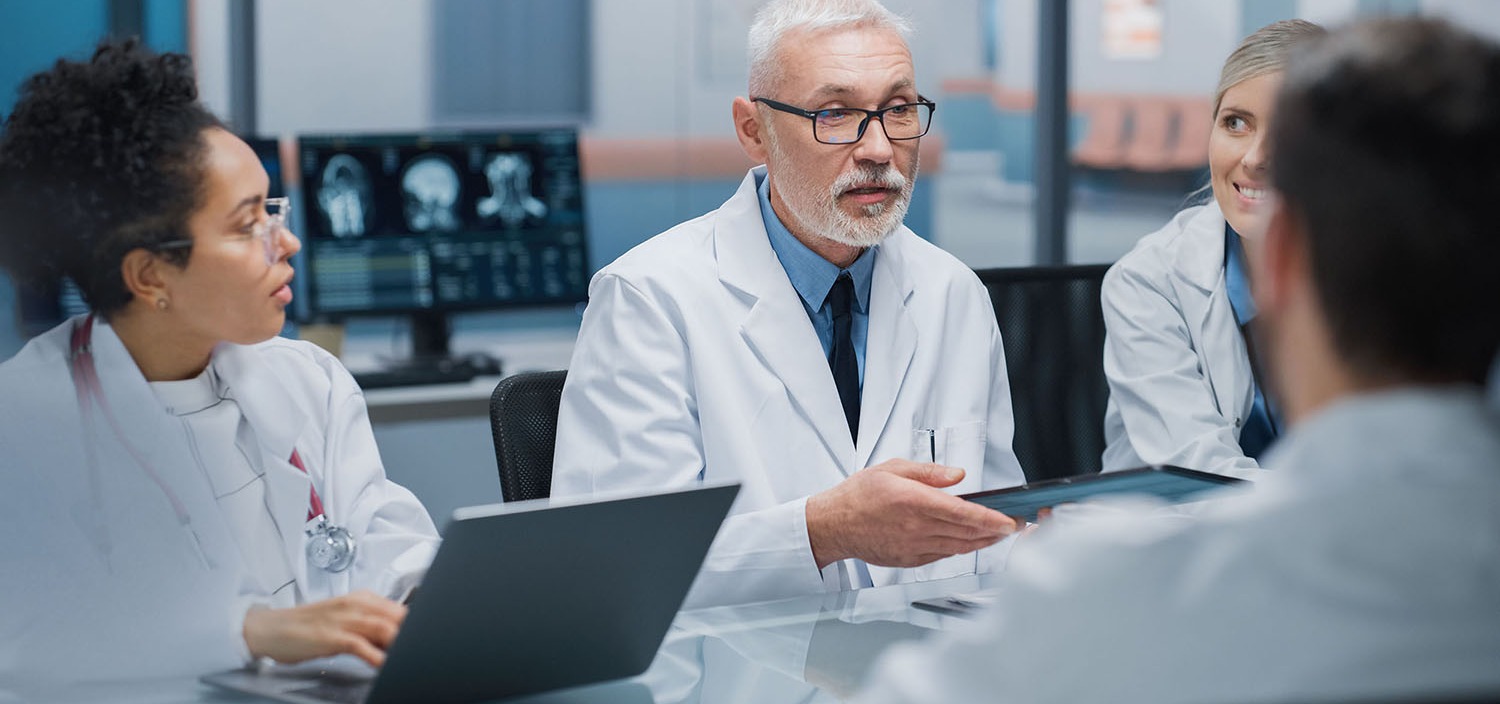 THE GOAL OF GLA'S PRESTIGIOUS SCIENTIFIC ADVISORY BOARD IS TO PROVIDE STRATEGIC GUIDANCE FOR OUR RESEARCH AND SCIENTIFIC PROGRAMS JUDGED TO HAVE THE BEST PROSPECT OF DELIVERING MEASURABLE RESULTS AND SIGNIFICANT, MARKETABLE ADVANCES.
2020-2022
SCIENTIFIC ADVISORY BOARD
Timothy Sellati, Ph.D.
Chief Scientific Officer
GLA
Cara DeAngelis, Ph.D.
Research Liaison
GLA
Armin Alaedini, Ph.D.
Assistant Professor of Medicine
Columbia University Medical Center
Paul Arnaboldi, Ph.D.
Assistant Professor of Pathology, Microbiology, and Immunology
New York Medical College
John Belisle, Ph.D.
Professor of Microbiology, Immunology and Pathology
Colorado State University
Catherine Brissette, Ph.D.
Professor of Biomedical Sciences
University of North Dakota School of Medicine and Health Sciences
Charles Chiu, M.D., Ph.D.
Professor of Laboratory Medicine and Medicine
University of California, San Francisco
Volker Fingerle, M.D.
Head of German National Reference Center for Borrelia
Bavarian Health and Food Safety Authority
Richard Goldstein, D.V.M.
Vice President and Chief Medical Officer of Diagnostics
Zoetis, Inc.
Linden Hu, M.D.
Vice Dean of Research and Professor of Molecular Biology and Microbiology
Tufts University School of Medicine
Richard Marconi, Ph.D.
Professor of Microbiology and Immunology
Virginia Commonwealth University
Adriana Marques, M.D.
Chief of Lyme Disease Studies Unit within the National Institute of Allergy and Infectious Diseases
National Institutes of Health
Scott Mellis, M.D., Ph.D.
Vice President of Early Clinical Development and Experiment Sciences, Rare Diseases
Regeneron Pharmaceuticals Inc.
Utpal Pal, Ph.D.
Professor of Veterinary Medicine
University of Maryland
Mark Soloski, Ph.D.
Professor of Molecular Biology & Genetics
Johns Hopkins University School of Medicine
Susan Swedo, M.D.
Chief of Pediatrics and Developmental Neuroscience Branch
National Institute of Mental Health
R. Mark Wooten, Ph.D.
Professor of Medical Microbiology and Immunology
University of Toledo College of Medicine and Life Sciences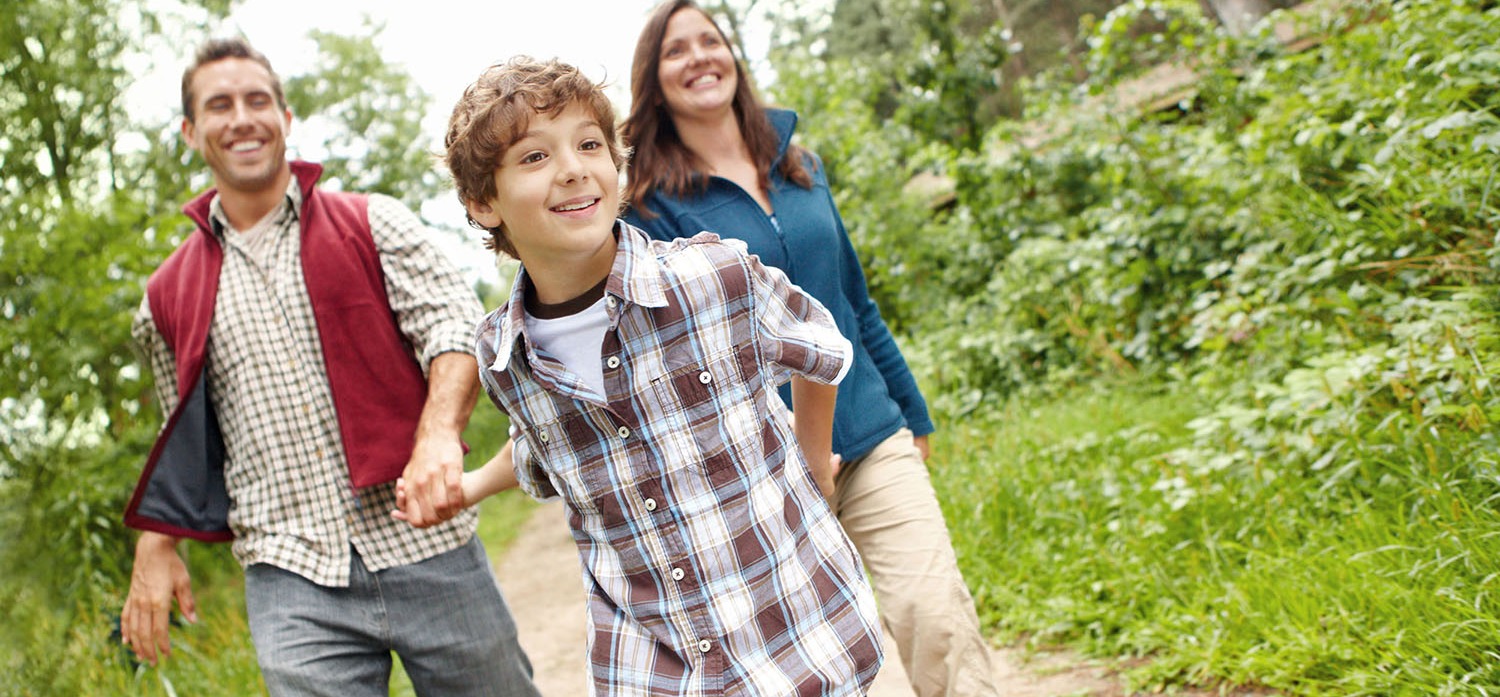 GLA is driven by donations from the community; whether it's $50 or $5,000, every dollar counts. The generosity and commitment of our supporters propels GLA's mission to conquer Lyme disease, and most importantly help patients. For complete financial information, including current IRS-990, go to GLA.org/financials
GLOBAL LYME ALLIANCE, INC.
STATEMENT OF ACTIVITIES AND CHANGES IN NET ASSETS
YEAR ENDED DECEMBER 31, 2022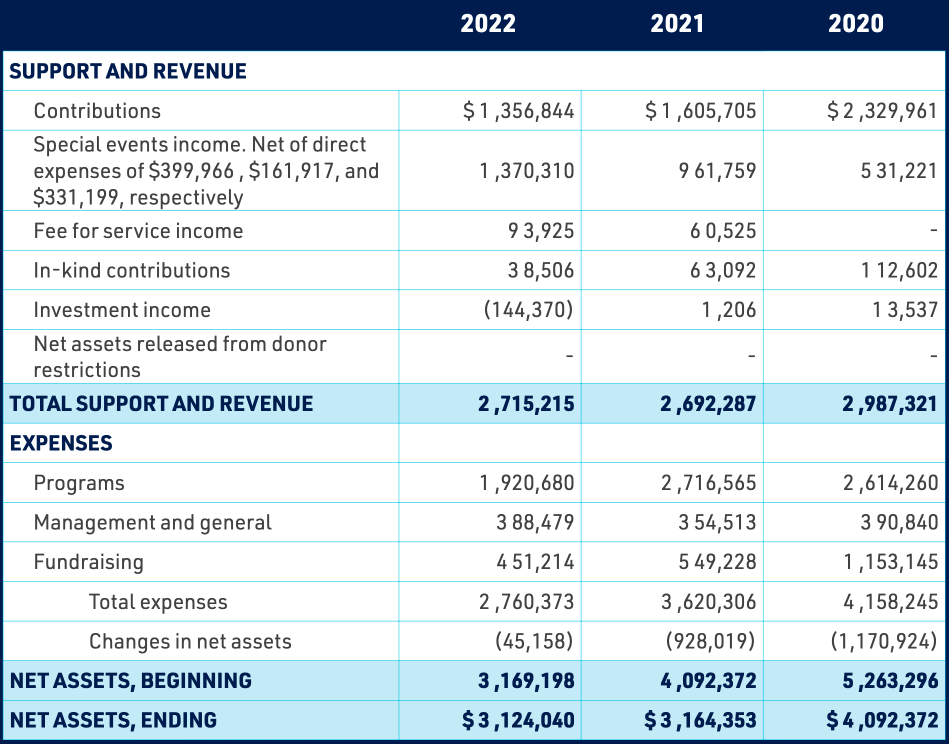 GLOBAL LYME ALLIANCE, INC.
STATEMENTS OF FINANCIAL POSITION
DECEMBER 31, 2021 AND 2020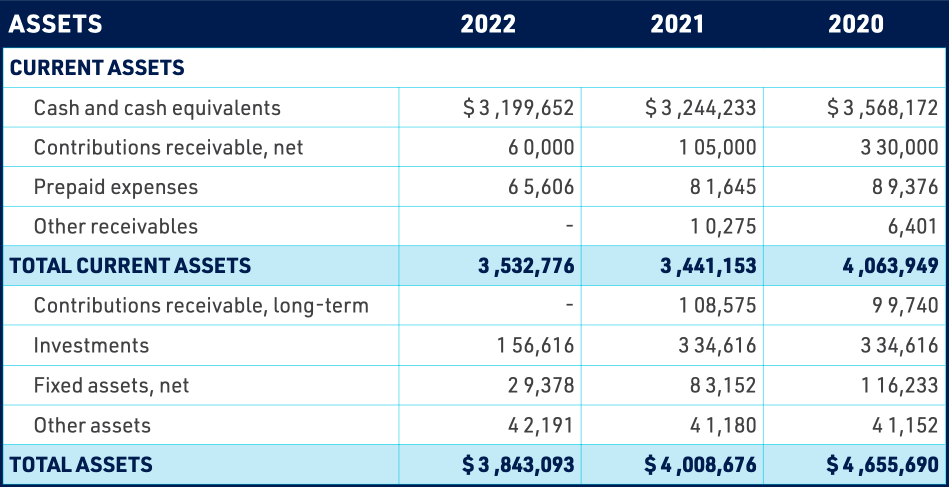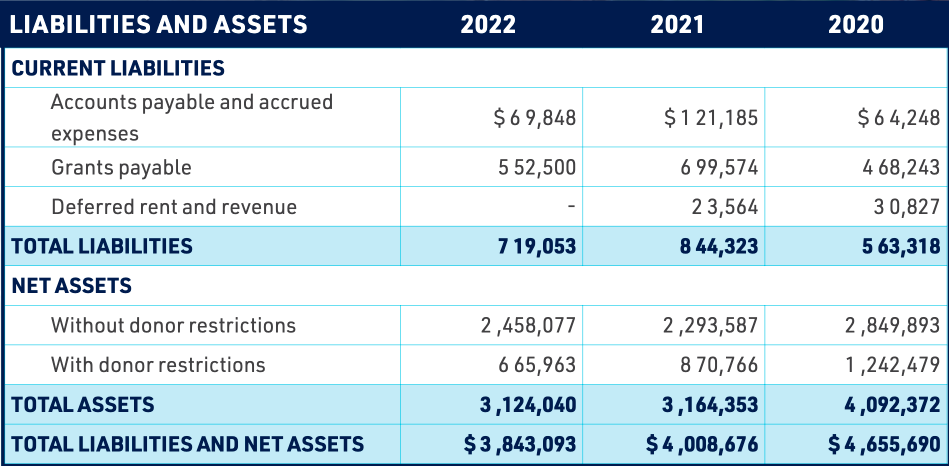 GLOBAL LYME ALLIANCE, INC.
BUDGET ALLOCATIONS