This blog post is part of our People to Highlight Series during our 2020 Year-End Appeal. Each week we'll be spotlighting a GLA community member who has helped to advance our mission. To support GLA during our year-end appeal,

donate here
.
by Mackenzie Vath
Mysterious symptoms
My symptoms started when I was around ten. I began to experience learning difficulties and focus issues in school. The obvious diagnosis was dyslexia and attention disorder. At the same time, I would also catch every cold or flu that would circulate in our school. When I got to high school and started competitive dance, my body always ached. It was worse than growing pains and was widespread throughout my body. I was constantly fatigued and couldn't sleep. I felt unbearably tired.
My mom took me to see a specialist. Their diagnosis was 'dramatic teenager'. They seriously thought I was faking it! The fatigue and lack of proper care led me to experience serious depression, anxiety, and mood disorders. I was sensitive to everything and everyone. The constant joint pain, body aches, fatigue, and lack of sleep made me irritated and unhappy. It also affected my menstrual cycle and hormones. Taking tests in school was difficult with ongoing and worsening brain fog. I could not for the life of me remember anything important, not even my locker combo.
During this time, I was simultaneously dealing with dysbiosis, candida, and ongoing stomach issues. After eating a protein bar, I was doubled up in pain and had to go to the hospital. You name it, I experienced it. I was going through it at school and without any help or understanding from my peers or family.
Finally, I saw another specialist who told me I had a gluten allergy, so for the next 13 years, I went gluten-free. At this time no one knew what gluten was and there were no alternatives on the market, making my options limited. I started cleaning up my diet and it seemed to help my gut, but everything felt impossible. I became more and more of a hermit. I didn't have the energy to socialize, hang with friends, even talk to people. I just wanted to disappear and die.
A turning point
After battling 'phantom' symptoms and wrongful diagnosis; it was up to me to find out what was really going on. It was divine providence that my mother and father invited me to one of their speaker events. I had never attended an event before, but the topic was about health and my mother felt I would find it interesting. The speaker was Dr. Dino Prato, Founder of Envita Medical Center in Scottsdale, AZ. Being from Southern California, Lyme disease was foreign to physicians, basically 'non-existent'. Dr. Dino started to explain more about Lyme disease and the wide variety of symptoms and their evolution. Everything he said was exactly what I was experiencing. It was like he was talking directly to me. I turned to my mother and told her this is what I have; Lyme disease. We flew to Arizona the following week and I went through vigorous testing. A few months later my results came back and I was positive for active Borrelia burgdorferi (Lyme disease) and multiple co-infections.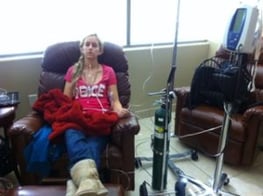 Lyme not only affects your life but all the lives around you. My family struggled not understanding what was wrong with me. My friends struggled to connect with me and to try to help. I struggled with my symptoms and not being able to articulate how my body felt or even remember what happened the prior day. When someone is battling such a life-altering disease it creates a ripple effect to the ones you love that suffer along with you. In summary, the effect was life-altering.
Finding Global Lyme Alliance
Through my online research, I stumbled upon GLA, for the first time. I flew to NYC and attended their annual Gala at Cipriani in 2017. I was really looking for answers and hopefully someone who would understand what I've been going through. As I soaked in the event, speakers, and connected with quests, I met my table guest who had a similar story to mine; I instantly found a place where I felt understood. I've always been a person who gets involved when I care about something, so I decided to focus my energy on supporting GLA.
After attending the gala, my family made a large donation to GLA to support their research efforts. I wanted to do more, so I became an ambassador of GLA's programs. Currently, I work closely with GLA to raise awareness about Lyme and other tick-borne diseases in my local community of Southern California. I'm working alongside some amazing Lyme survivors and creating a space for engagement and knowledge sharing, all while supporting GLA's mission.
I am thankful for GLA and their board members for working diligently on finding new treatments, diagnostics, and eventually a cure, for all those who suffer in silence. They also provide resources and support for patients and families. Being part of the GLA community has aligned me with others I can relate to. I've found my tribe and I am connecting with those making a difference. I believe the answer to this disease is knowledge sharing. GLA shares their knowledge to help individuals like myself, and for that, I am forever grateful.
Read more stories in our People to Highlight Series.
---
As you may know, GLA is solely funded by donor support. Due to COVID-19, we have been unable to hold our usual fundraising events. Please donate below if you'd like to support GLA's research, our programs, and our mission.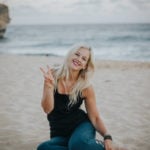 Contributer
Opinions expressed by contributors are their own. Kenzie Vath is the founder of Holistic Umbrella in Orange County, CA. Holistic Umbrella is a wellness-based lifestyle and coaching company whose mission is to provide a holistic approach to balance client's health and wellness. Kenzie's goal for the upcoming year is to offer a variety of wellness-based events to local communities. Do you have a question for Kenzie? Email her below.
Email: kenzie@holisticumbrella.com